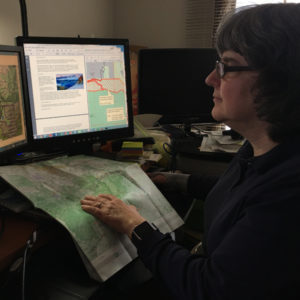 You probably already know about the important things that Rocky Mountain Wild does like successfully fighting to protect Wolf Creek Pass from a massive housing development and collecting data on the impacts of climate change on the American pika through a multi-year citizen science project. I thought you might also like to hear some other cool things about Rocky Mountain Wild that I've learned through working here:
Almost everything we do supports and is supported by a broad coalition of conservation minded organizations that work really well together. For example, we worked closely with San Juan Citizens Alliance and San Luis Valley Ecosystem Project to protect Wolf Creek Pass and with the Denver Zoo and Colorado Parks and Wildlife on the Front Range Pika Project.
Rocky Mountain Wild's carbon footprint is low. We all do most of our desk work from our homes. Most of us take public transit when we get together for face-to-face staff meetings. And we often carpool when our work takes us out in the field.
Our work mapping work has helped organizations around the state convince the Forest Service and Bureau and Land Management to add around a million acres to their inventories of roadless and wilderness quality lands.
The people who work at Rocky Mountain Wild are really smart and have an amazing array of skills for such a small organization. Do you need:

an expert opinion on Canada lynx reintroduction or Preble's meadow jumping mouse genetics?
how to effectively use the Freedom of Information Act?
an infographic about wildlife corridors?
a map of threats to the North Fork valley from Natural Gas development?
an interpretive dance about protecting Gunnison sage-grouse?
Our small but mighty staff can do all those things and much, much more.
We monitor oil and gas lease sales in Colorado, Wyoming, Utah, and beyond. Our comments and protests on these sales have led the Bureau of Land Management (BLM) to defer over two million acres of lands from these sales.
I have the coolest job ever! I get to play with maps all day and learn about lots of wonderful places. And this helps an organization I love to protect the wild places and wildlife that brought me to Colorado in the first place.
When I first moved to Colorado over 25-years ago, I started supporting Conservation organizations by donating. Over time I started volunteering for groups like Wild Connections and the Southern Rockies Ecosystem Project (now Rocky Mountain Wild). Now I've made it my career.
I still donate to Rocky Mountain Wild every year on Colorado Gives Day. I hope you will do the same.
Consider joining Alison in supporting RMW:
Join 100 Women for the Wild or schedule your CO Gives Day donation.