A short update on Wolf Creek Pass: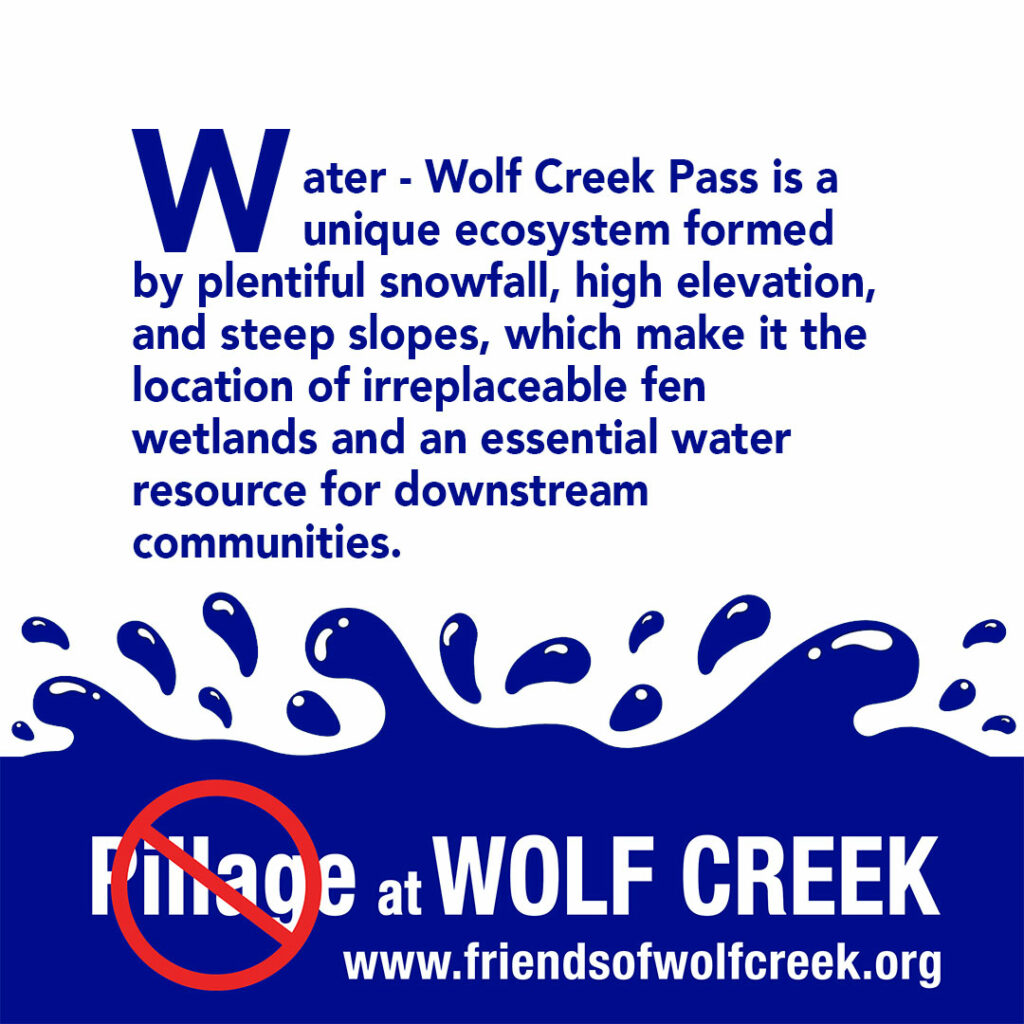 As you probably know, the proceeds of the Banff Centre Mountain Film Festival World Tour help support our work to keep Wolf Creek Pass wild! So thank you for attending and supporting that work. Here's a little update from our Legal Director, Matt, on the case:
Rocky Mountain Wild and our partner organizations continue to challenge the proposed "Village at Wolf Creek." This 10,000-person development on top of Wolf Creek Pass would create a detrimental barrier to wildlife movement between the South San Juan Wilderness area and the Weminuche Wilderness. We are particularly concerned about how this habitat fragmentation would impact the Endangered Species Act listed Canada Lynx. Our most recent challenge to this project is currently being decided by Federal Judge Christine Arguello. We sincerely hope Judge Arguello agrees that the impacts of this development have not been adequately considered and overturns the Forest Services access decision. We could not do this important work without the support of our members and supporters.

Matt Sandler
Legal Director, Leadership Team
Rocky Mountain Wild
To learn more about just some of the issues with building in this important wildlife movement corridor, check out our informational page.
Here are some things happening at Rocky Mountain Wild:
After a decade of leading Rocky Mountain Wild and accomplishing amazing feats, Tehri Parker retired as Executive Director. Rocky Mountain Wild staff are now reenvisioning what the future of the organization may look like. We have officially transitioned from a traditional hierarchical business model to a shared leadership model! And we are in the process of hiring a Fundraising Director to the team. Stay tuned for our new team member announcement!
Next month, we're hosting another film festival! Because one is just not enough. Rocky Mountain Wild is excited to be bringing The Wild & Scenic Film Festival to a screen in your own home on October 20! Live stream the festival with whoever you are staying safe at home with and live chat with our staff and others attending the festival. This film festival is made by activists for activists and sits apart from the hundreds of festivals around the world by leaving you inspired and motivated to go out and make a difference in your community and the world. Learn more about the festival and get your tickets today!
Join us in Boulder next month for Pikas, Prairies, and the Climate Crisis: A photography exhibit about saving our wildlife. Using stunning field photography and video this exhibit explores the surprising connections between Colorado's shortgrass prairies and the American pika. Pikas, a cold-loving species that live in the high-altitude mountains, are threatened by warming temperatures and diminishing snowpack. Their survival may depend on our ability to protect a place hundreds of miles from their alpine home — the Great Plains. Plus, join us for the Opening Reception on October 22.
Here are some direct actions you can take with Rocky Mountain Wild and our partners:
Every Friday, we post ways that you can contribute to making our region a green place, including events, community science projects, jobs, internships, scholarships, volunteer opportunities, and of course, direct actions.
Check out all the actions and be sure to bookmark the page to see what you can do every week!