On May 16-22, 2021, Rocky Mountain Wild, with our partners, will host the 5th annual Colorado Endangered Species Week, with national Endangered Species Day occurring on May 21. This week is dedicated to providing educational events to the public and advocacy opportunities to protect the plant and animal species that are at risk here in Colorado.
Typically, during this week, Rocky Mountain Wild and our partners organize speakers, fundraisers, and other activities along the Front Range, with major events occurring in Boulder and Denver. This year, as we stay Safe at Home, we will be offering a suite of online activities each day.
This year, we will also host an online auction — The Most Awesome Environmental Online Auction in the Front Range! All items in this auction come from a member of a green coalition (1% for the Planet, Certifiably Green Denver, Certified Green Lafayette, The Conservation Alliance, Green America) or the item itself may replace a less environmental one.
Governor Polis has officially proclaimed May 16-22, 2021 as Colorado Endangered Species Week! Check out the proclamation here.
Help us advertise this week of events! We have a media kit (which will continue to change as we edit and add events) that you can use to help us promote the week.
---
Schedule of Events
For each day during Colorado Endangered Species Week, we'll be focusing on one of our important species or wild places here in Colorado. Each day will feature a suite of activities, including things to read, direct actions to do, and things to watch to help us learn about and advocate for our Colorado imperiled, threatened, and endangered species!
Stay tuned as we add more events.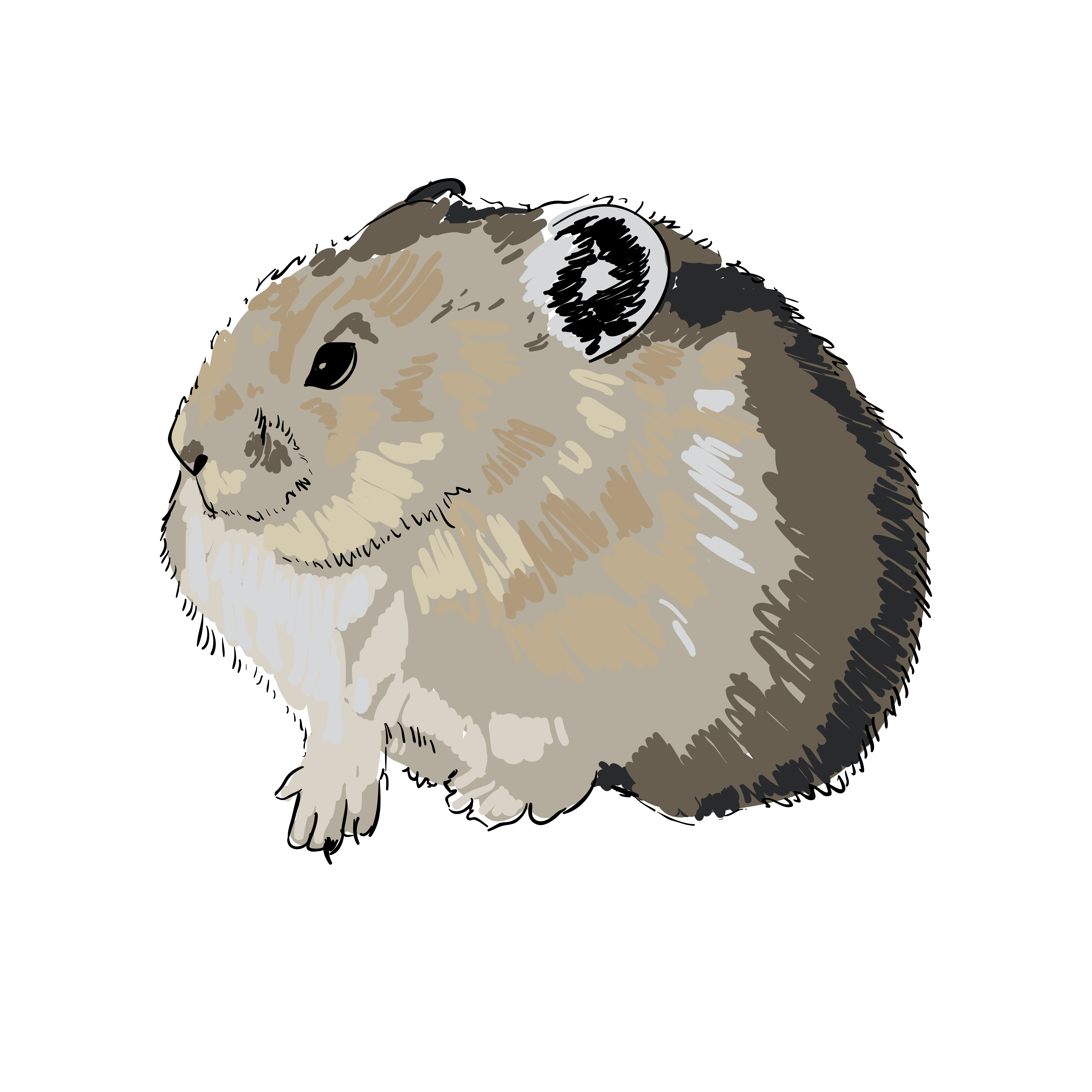 Species: American pika
Scientific Name: Ochotona princeps
Status: Imperiled but not listed on the Endangered Species Act
The American pika has adapted to thrive in environments that are harshly cold for most of the year, but they also make the American pika vulnerable to a warming climate. Learn more about pikas and see what you can do to help protect them. And attend our live and virtual hybrid Tal-us About Pikas webinar with pika experts on Sunday, May 16, 1:00-2:30 pm MT either online or at Wild Bear Nature Center!
A huge thank you to our Tal-us About Pikas event partners, Wild Bear Nature Center and Sheep Mountain Alliance.
---
Start your work week right by doing something wild! Today we are urging all our supporters to take a few minutes to do a good deed for the wildlife, wild lands, and historic sites that share our planet. We would love for you to share that good deed on our social media channels so that we can inspire people around the world to join us!
What will your day of service look like? Will you put out hummingbird feeders? Install stickers on your windows to reduce bird collisions? Pick up garbage in your local park? Sign a petition in support of wildlife crossing structures? Volunteer for a community science project? We can't wait to hear from you!
Here at Rocky Mountain Wild, we will be working with our friends at El Laboratorio to check wildlife cameras for the field season and to transfer the cameras to their program so that they can monitor wildlife along the South Platte River in Denver!
A huge thank you to our Day of Service partners, El Laboratorio and National Parks Conservation Association.
---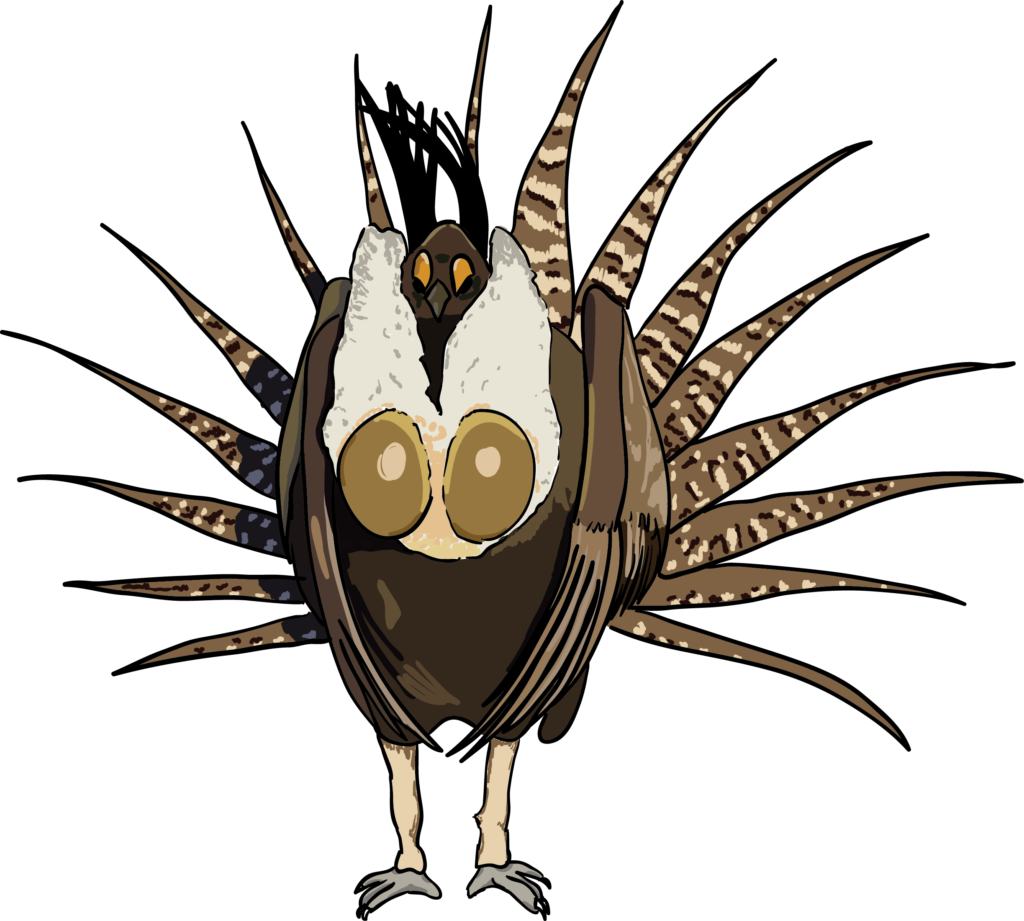 Species: Gunnison sage-grouse
Scientific Name: Centrocercus minimus
Status: Threatened
Gunnison sage-grouse once ranged widely across southwest Colorado and Utah but today they occupy just 10% of their historic range. With fewer than 5,000 of these birds remaining the Gunnison sage-grouse needs our help. Habitat loss from urban development, oil and gas drilling, mining, off-road vehicle use, and road construction threatens to push this species toward extinction. Learn more about Gunnison sage-grouse and see what you can do to help protect them. And attend a live webinar, 6:00-7:00 pm, presented by our friends at Defenders of Wildlife, about the National Biodiversity Strategy resolution, looking at Gunnison sage-grouse as an example of how the strategy would benefit imperiled species in Colorado.
A huge thank you to our Gunnison Save-Grouse even sponsor, Defenders of Wildlife.
---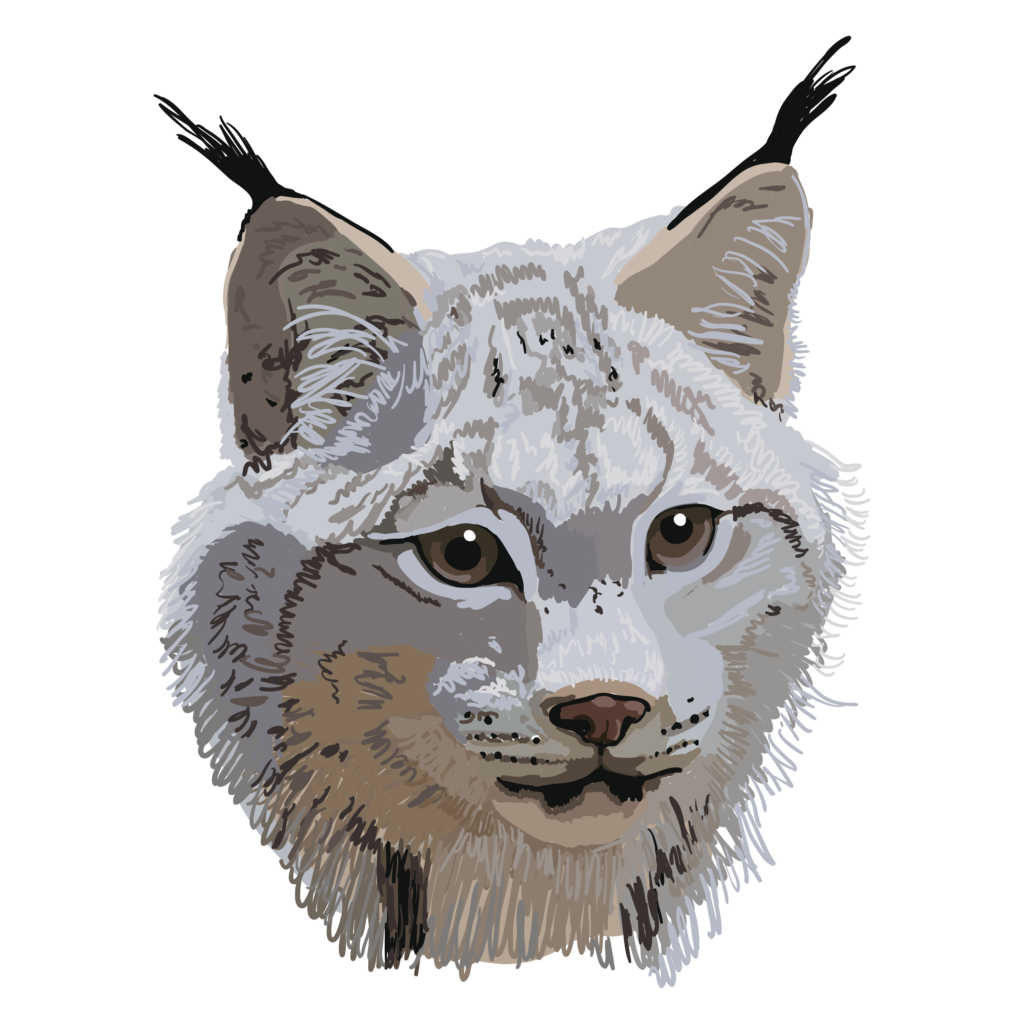 Species: Canada lynx
Scientific Name: Lynx canadensis
Status: Threatened
The elusive Canada lynx once ranged from Alaska to northern New Mexico, west into California, and east to Maine. By the early 1970s, Canada lynx were all but eliminated from the Rockies due to trapping, shooting, and habitat degradation. Between 1999-2007, 218 lynx were reintroduced to southwestern Colorado, but new problems like highway mortality, habitat fragmentation, ski area expansion, and lack of adequate habitat protections dwindled their numbers. Learn more about Canada lynx and see what you can do to help protect them. And attend our live webinar with connected landscape experts on Wednesday, May 19, 12:00-1:00 pm MT! Register to save your seat!
A huge thank you to our Links for Lynx partner, Wild Connections!
---
Species: Monarch butterfly
Scientific Name: Danaus plexippus
Status: In 2020, the US Fish and Wildlife Service announced that listing was warrented, but "precluded" by higher priority listing actions, and has proposed that they be listed in 2024.
The monarch butterfly is at risk of extinction. Monarchs face numerous threats, from extreme weather due to climate change to the liberal use of pesticides, like Monsanto's RoundUp, to habitat loss and fragmentation. The monarchs that live in the Western United States have declined by over 99%. Despite this fact, they are not protected under the Endangered Species Act. In December 2020, the US Fish and Wildlife Service determined that the butterflies warrant Endangered Species Act protections, but precluded listing them due to backlog and limited funding. This was a huge blow for the species and maintained their slow flutter toward extinction. Learn more about Monarch butterflies and see what you can do to help protect them. And attend our event with Endangered Species Coalition (coming soon)!
A huge thank you to our Daughters of the Sun event partners, Endangered Species Coalition, Denver Urban Gardens, and People and Pollinators Action Network!
---
Let's celebrate another successful Colorado Endangered Species Week with an informal online happy hour and trivia. Rocky Mountain Wild staff will discuss our current work and achievements, interspersed with fun trivia questions about the species and places we protect. Participants will have the opportunity to win fun prizes like our plush pikas and bats, as well as sweet energy treats from Honey Stinger, reusable steel straws, and more! Bring your friends and come hang out with us on Zoom! Register to let us know you're coming!
---
In honor of Endangered Species Day, Endangered Species Coalition is holding a nationwide, all-ages chalk art competition that anyone can participate in, from wherever you live. This event will help raise awareness of the importance of endangered wildlife, and we'll be giving away a variety of prizes, including a $250 Grand Prize for the best artwork and a number of small prizes just for participating!
This event is a great chance to:
Celebrate the beauty of the endangered and threatened plants and animals all around us.
Raise awareness of the fact that more than 1 million species worldwide are threatened with extinction.
Participate in Endangered Species Day in a fun, creative, and socially distant way.
Visit their site for directions on how to enter!
---
Grab your cup of coffee, open your computer, and get in your last bids for The Most Awesome Environmental Online Auction on the Front Range! Rocky Mountain Wild's first online auction will close Saturday, May 22 at noon MT. This is your chance to get great deals on outdoor gear, restaurant gift cards, custom art pieces, and even vacation packages – all while supporting Rocky Mountain Wild. Your contributions will support our work to protect our region's wildlife and wild places. Bid often, and bid high – it's for a great cause.
---
The Most Awesome Environmental Online Auction in the Front Range:
Colorado Endangered Species Week includes the Most Awesome Environmental Online Auction in the Front Range, with auction items that are either donated by a business with a green coalition membership or items that are environmental in nature. Check out more about the online auction on the online auction page. And check out all the items in the auction and register to bid here.
Follow us on Instagram or join our Facebook event page to see all of the items that will be in the auction!
A huge thank you to our sponsor for The Most Awesome Environmental Online in the Front Range, Wild Connections!
---
Support the Week by Purchasing a Tee!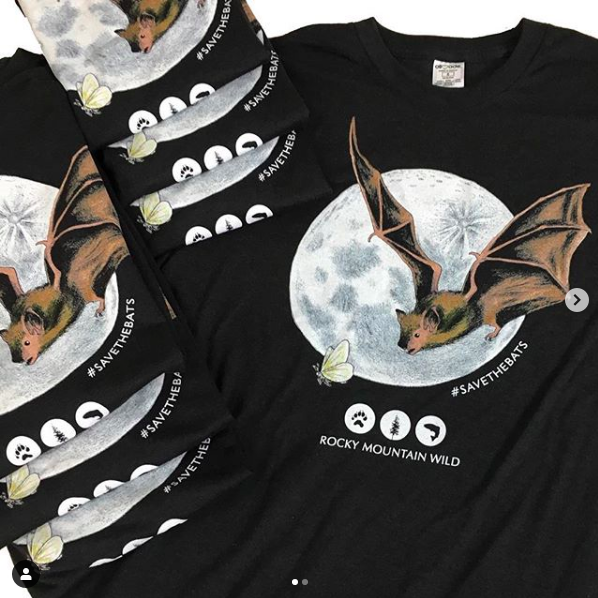 Support the week's events by purchasing one of our species tees! In 2019, our artist sponsor Julie Kitzes designed a stunning tee shirt featuring a brown bat. We also have our very last Gunny Sage-Grouse Hero tees, designed by our very own Chris. Tee shirt sales help fund Colorado Endangered Species Week.
Visit Julie Kitzes' website or Instagram page to see more of her work and consider supporting her during this uncertain time.
---
Partners:
This week can't happen without the help of all our partners. If you are interested in becoming a Media Sponsor, a Resource Partner, an Event Partner, or an Online Auction Parter, check out our Sponsorship Packet and email Chris at chris@rockymountainwild.org with the type of partnership you would like to have this year.
Partners:
---
For the Kids (& Kids at Heart):
Captain Planet Foundation's Project Hero: a free, project-based learning tool and framework that engages young people in Quests to help threatened species and ecosystems in their own communities.
Feel free to download any of our coloring pages! And if you love how it turned out, please send it to us and we'll post it on our Instagram page!