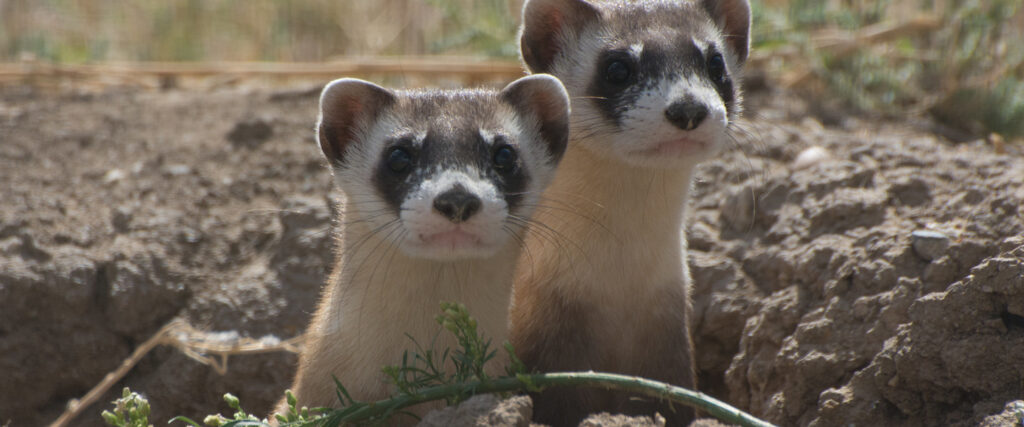 Black-footed ferrets were thought to be extinct until 1981 when a small population was discovered, giving hope for the survival of the species.
Black-footed ferrets rely exclusively on prairie dogs for prey and on prairie dog burrows for shelter. Unfortunately, many landowners, livestock operators, and state agencies consider prairie dogs to be pests and exterminated them from 98% of their historic range, consequently pushing black-footed ferrets to the brink of extinction.
Captive breeding and reintroduction programs have been successful at growing the population. There are, at this moment, approximately 300 black-footed ferrets living in the wild.
Find out more about black-footed ferrets and how you can help protect them.
Partners:
A huge thank you to our BFF Day partners:
Here are just some things you can do to learn more about black-footed ferrets:
Join Us:
Join us for Your New BFFs: Black-Footed Ferrets webinar
Monday, May 16, 12:00-1:00 pm MT
Registration: Closed. This event has already happened!
Join us and our friends Chamois Andersen, Kaitie Schneider, and Caitlin Cattelino from Defenders of Wildlife for a lunch-and-learn about your new BFFs: Black-footed ferrets! These BFF experts from Defenders will discuss this species' status, talk about what's being done to protect and restore the species, what you can do, and answer your questions regarding the restoration process for this species on the brink.
A huge thank you to Chamois, Kaitie, and Caitlin for sharing their knowledge with us! If you missed the live webinar, not to worry, here's a recording:
Read:
Do:
Use our resources to submit a protest to object to oil and gas parcels in Wyoming's upcoming lease sale that include important habitat for white-tailed and black-tailed prairie dogs including potential black-footed ferret reintroduction sites. Protests are due May 18.
Take action with Defenders of Wildlife and tell your senators and representatives to support a funding increase of at least $79 million for the Endangered Species Act in the FY23 Appropriations bill.
Color in your own black-footed ferret! Consider sending it to us and we'll post it on our social media!
Watch:
Black-Footed Ferrets, Colorado Parks and Wildlife
Black-Footed Ferret Release at Soapstone Prairie Natural Area
Whizpops! Black-Footed Ferret Music Video:
Check out our Colorado Endangered Species Week page for more days of activities!