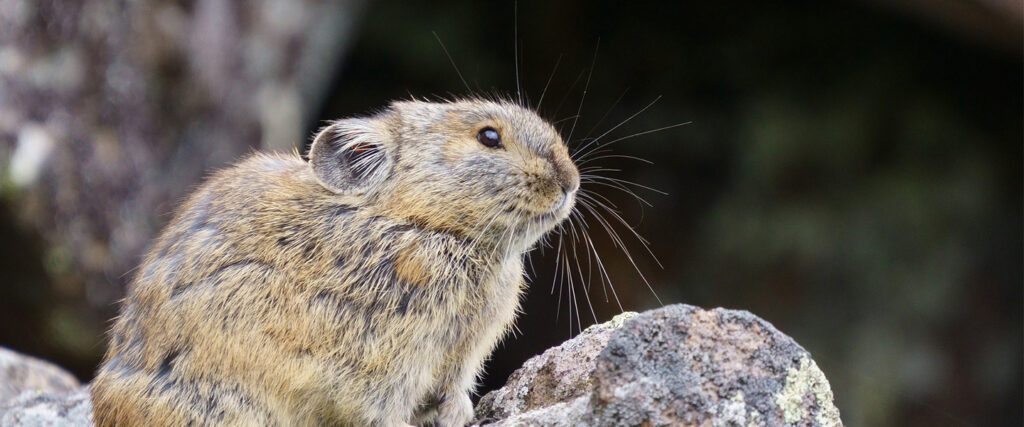 The American pika has adapted to an extremely narrow set of living conditions. During the winter it relies on snowpack for insulation from sub-freezing air temperatures, and during the summer it avoids overheating by resting in cool spaces found under the rocks in talus and boulder-fields.
These adaptations are great for thriving in environments that are harshly cold for most of the year, but they also make the American pika vulnerable to a warming climate. As climate changes, the American pika is threatened by reductions in snowpack and longer, warmer summers that might change the quality of their forage and reduce the amount of time they can spend foraging in the warmer temperatures above the rocks.
Partners:
A huge thank you to our Protect Pikas Day partners:
Here are just some things you can do to protect pikas:
Join Us:
Join us for A peek on pikas: how climate change is impacting distributions webinar
Tuesday, May 17, 12:00-1:00 pm MT
Registration: Register today to save your spot!
Hear from Peter Billman, a Ph.D. student at the University of Connecticut studying how species are responding to climate change, as he leads us on a peek at pikas and how climate change is impacting their distributions. We'll also hear from Megan Mueller, Co-Director of the Colorado Pika Project on some easy ways you can help American pikas here in Colorado.
Read:
Do:
Watch/Listen
"Pika 360," by Rocky Mountain Wild member James Beissel, Wildlife Protection Solutions and Just Float Films (5 minutes).
Pika 360 is an all-surrounding, immersive experience that takes you to the summits of the Rocky Mountains' sky islands. Experience the soaring vistas of the fragile, alpine ecosystem that the American pika calls home, while getting eye to eye with the world's cutest mammal as he goes about his daily life. Learn about those who are helping to protect this small but invaluable member of our earthly community, then find out how we can join in the fight to save him, and in doing so, how we might also save ourselves.
Watching "Pika 360" on Oculus TV: https://www.oculus.com/experiences/media/534112541255583/
FAQ on How to Watch 360 Videos: https://www.justfloat.film/how-to-watch
"Pika 360" on YouTube:
"Meet Colorado's Pikas," from Colorado Fourteeners Initiative (3 minutes)
"What are Pikas Saying?" from Colorado Fourteeners Initiative (2 minutes)
"Why Pika Populations are Declining" from Colorado Fourteeners Initiative (3 minutes)
"How Food Affects Pika Survival in Colorado's Alpine Areas" from Colorado Fourteeners Initiative (2 minutes)
Watch "CommuniTy Science: One Trans Person's Trip to Loveland Pass to Study Pikas." In it, Chris Talbot-Heindl (they/them) talks about why they avoid going out into nature by themself as a trans nonbinary individual. And how their accomplice Megan Mueller (she/her) took them out to Loveland Pass to study pikas and complete a pika survey! (24 minutes)
Watch 2020's Colorado Endangered Species Week Pika Power Hour and Ask Me Anything with Jo Varner from Colorado Mesa University and Megan Mueller from Rocky Mountain Wild. They discussed the species, its current status, and the community science projects that will help us protect this adorable species. (69 minutes)
SciFri's How Climate Change Threatens Pikas podcast (13 minutes)
"Scientists in Action: Protecting Pika," from the Denver Museum of Nature and Science (5 minutes)
"Pikas: Cute Animal, Serious Science," from Science Podcast for Kids (listen, 16 minutes)
Check out our Colorado Endangered Species Week page for more days of activities!