Gunnison sage-grouse protection a concern
By: Jessica Kutz, Telluride Daily Planet
October 18, 2017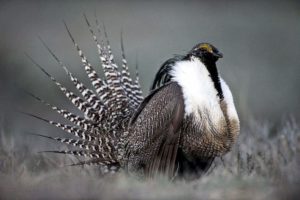 The San Miguel Board of County Commissioners and three environmental organizations filed a lawsuit on Oct. 10 against the federal Bureau of Land Management.
The lawsuit seeks to "invalidate" the leasing of nine parcels of land in San Miguel County from a March 2017 Colorado Lease Sale by the Tres Rios Field Office. According to a news release, the land was put up for sale "without properly considering the environmental impacts of drilling" in those areas.
The parcels are located in the western end of the county, in areas that were identified as important to the protection of the Gunnison sage-grouse "and the leks (mating grounds) used for the bird's unique courtship display," a news release states.
San Miguel County Commissioner Hilary Cooper said some of the parcels up for lease also are being considered for designation as Areas of Critical Environmental Concern through an amendment process.
In a previous interview with the Daily Planet, Lynn Padgett, the director of government affairs and natural resources for the county, said it didn't make sense for the BLM to lease land that was currently being considered for such protections.
"Leasing these parcels now while there is still an ongoing amendment process for the (Gunnison) sage-grouse is premature," she said.
The other leased parcels are not being considered for this designation but are "within a few miles of this critical habitat and our concern there is that the BLM did not go through the proper process to evaluate these in terms of all the potential environmental impacts before they leased," Cooper said…
In addition to the San Miguel County Commissioners, Rocky Mountain Wild, the San Juan Citizens Alliance and Conservation Colorado are also part of the lawsuit.
Megan Mueller, senior conservation biologist for Rocky Mountain Wild — a Denver-based nonprofit that protects and restores wildlife — said leasing the land will further displace and endanger the Gunnison sage-grouse.
"Half of the remaining habitat for Gunnison sage-grouse is on public land managed by BLM, and their continued failure to do their share to protect critical habitat undermines the local collaborative effort to conserve this unique Colorado bird," she said in a news release.
Read more at Telluride Daily Planet.