By: Erica Prather, Campaign Assistant, Rocky Mountain Wild
On January 26 Rocky Mountain Wild hosted a premier showing of Last Chance to Dance, a short film about the plight of the Gunnison sage-grouse. Since that time the film has been viewed over 500 times online, and inspired more than 800 comments to officials who can help protect this species from extinction. You can join the movement by signing our petition, and joining us for a live film viewing and discussion April 29, 2017 in Gunnison, CO. Here is a note from the filmmaker.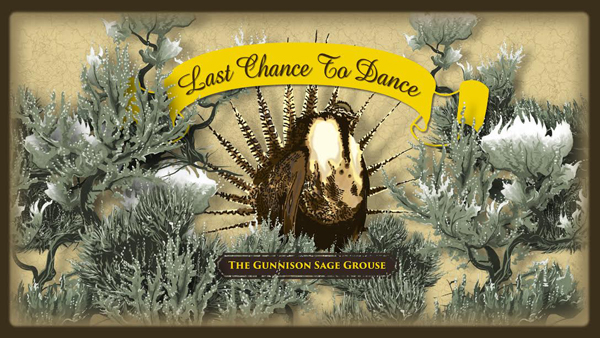 Creating Last Chance to Dance was a way to playfully bring awareness to a species in peril – the Gunnison sage-grouse. The reality of the 21st century is that we spend the majority of our time indoors or behind a screen; the average American logs 10 hours of screen time a day! We may not have the chance to physically see endangered species, but, because of our hyper-connected lives, we can see what they look and sound like, making the issue more tangible.
Creating art is a powerful way to bring folks into the conservation conversation who may not have exposure to these issues any other way. Photographers like Ansel Adams have brought a heightened awareness to environmentalism through their work. This was my overall goal as the writer and producer of Last Chance to Dance – to make something accessible and easy to understand, as well as something a bit light hearted. Conservation issues make us feel a lot of things, and many of those emotions "dead end" into helplessness and sadness. It's important to feel emboldened into action, and to view the federal agencies that make decisions with regard to public land use as attainable, easy to communicate with, rather than a larger-than-life bureaucracy.
The production of this film itself was such a fantastic opportunity to learn more about the Gunnison sage-grouse, and to tap into what about this particular bird and wildlife in general appeals to people. I worked with a musician to develop an original score that centered around manipulating the Gunnison sage-grouse call. The concept of animating this film came from an illustrator and painter, who ultimately drew the sage for the piece. The artistic flare and direction stemmed from my editor, who heightened the experience through illustrating habitat destruction and reduction through maps, graphics; all the little touches that help the audience go on the journey of the Gunnison sage-grouse in 4 minutes.
Our wildlife biologist at Rocky Mountain Wild, Megan Mueller, was instrumental in fact checking the satirical narration I wrote, and providing years of data on the species that I drew from to tell this story. Other staff members at Rocky Mountain Wild lent a hand in obtaining footage, and just being open to this style of communication in general. It took a lot of hands invested in Colorado species protection to move this project to the finishing line, and it was incredibly affirming when businesses like Futuristic Films stepped in, proving that folks in Denver and beyond are excited and willing to engage in conservation issues and become part of the solution. Art has a very open, vulnerable effect. It allows the viewer to openly interpret the information and have a personal experience, initiating a feeling of investment and intimacy to whatever the issue may be – and it's easy and enjoyable to share.
Ultimately, the heart and soul of this production was to gain the attention of the Colorado BLM, garnering support behind the designation of Gunnison sage-grouse habitat as Areas of Critical Environmental Concern. The Gunnison sage-grouse occupies less than 10% of its historical range, and we can't afford to lose any more. I hope you'll share Last Chance to Dance and the petition in your circles far and wide!