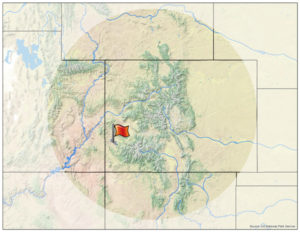 In far Western Colorado, Dry Creek Basin is a sea of sagebrush surrounded by high mesas. The United States Fish and Wildlife Service (FWS) has identified this area as critical to the survival of the Gunnison sage-grouse, one of the ten most endangered birds in North America.
A recent report from Conservation Science Partners confirms that this area has regional significance and should be prioritized for conservation by the BLM. According the study, Dry Creek Basin has more contiguous sagebrush land cover, ecological intactness, and connectivity value than similar tracts of sage-grouse habitat.
Rocky Mountain Wild is working to convince the Bureau of Land Management (BLM) to protect this remote landscape as an Area of Critical Environmental Concern (ACEC). The improved safeguards this designation will provide will help save the Gunnison sage-grouse from extinction. Join Rocky Mountain Wild in this effort to #StandWithGunny.