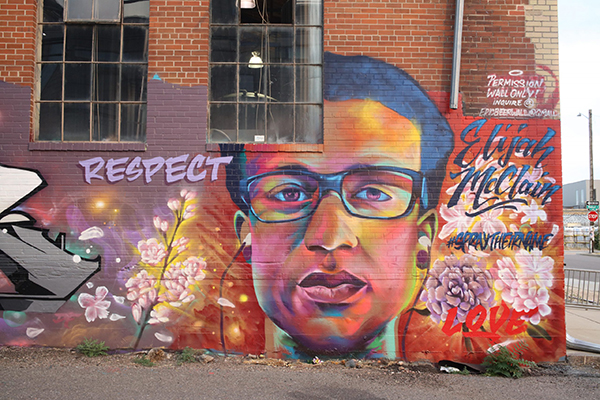 Every Friday we post ways you can contribute to making our region a greener place, including:
Events happening in-person
Events happening online
Community Science
Jobs, Internships, & Scholarships
Volunteer Opportunities
Actions & Action Resources
Below, we also have things you can do for Black Lives Matter, environmental activities you can do safely from home, and resources if you are being negatively impacted by coronavirus.
If you have something you would like included in the next round-up, please email Chris at chris@rockymountainwild.org.
Stay informed, engaged, and educated!
Support this work
Consider making a one time donation or joining our Super Species Squad by becoming a monthly donor!
BIPOC Experiences on Colorado Public Lands
Next 100 Colorado is launching a pilot project to collect information about the experiences of Black, Indigenous, and people of color on public lands in Colorado. They hope to capture the good, the bad, and everything in between, in service of better understanding the experiences of BIPOC in our publicly owned spaces and, if needed, creating or modifying policies to make our outdoors more inclusive of all people. Please help us get the word out about this effort, and encourage your BIPOC friends, colleagues, and family to share their experiences, whether recent or from the past. More information and a link to the collection form is available here.
Animal Legal Defense Fund – Tribal Member Diversity Scholarship Program
The Animal Legal Defense Fund Tribal Member Scholarship will be a gift of $25,000 payable to the student in two equal payments(Fall and Spring semesters) to offset the student's law school tuition, textbooks and/or living expenses. Interested students will apply during their first year of law school for a scholarship to be awarded for their second year. In addition, the student recipient will be eligible to clerk with the Animal Legal Defense Fund's Criminal Justice Program during the summer following their second year and have the option to continue as a semester clerk during their third year. The complete application package must be mailed or emailed on or before June 1, 2021.
Center for Animal Law Studies Summer School Scholarships
The Animal Legal Defense Fund is offering 10 scholarships for law students to take summer Animal Law courses through the Lewis & Clark Law School Center for Animal Law Studies. These scholarships will provide opportunities for students from other law schools to take advantage of the advanced Animal Law courses offered by Lewis & Clark Law School. 2021 scholarships will cover the full tuition of a 2-credit course. The complete application package must be emailed on or before June 1, 2021.
Denver Metro Chamber Leadership Foundation Program: Leaderships Denver
As the region's premier leadership program, Leadership Denver transforms actively engaged civic leaders into community champions through in-depth experiences with a close network of new personal and professional relationships that last a lifetime. This 11-month program includes a class retreat and community impact project. The deadline to apply is June 7. Tuition is $4,100. Scholarships are available.
2021 Mountain Resilience Semester: Immersion in People, Places, and Environment
An experiential undergraduate gap semester integrating climate change resiliency, sustainability, alpine ecosystems, wilderness expeditions, and mountain communities in partnership with the Center for Mountain Transitions at Western Colorado University. Students from across the nation are coming together in Colorado's mountains to explore this question: What does resiliency in mountain communities look like in the face of climate change? Through this landscape-based experiential immersive semester program students will build community, earn undergraduate credits, explore wilderness, and learn how to take action back in their home communities building resiliency and stronger relationships. Rolling application process at www.western.edu/mountainresiliencesemester
Work for the Mountain Resilience Semester: Immersion in People, Places, and Environment
What does mountain resilience in the face of climate change look like? Work with undergraduate students during the fall 2021 Mountain Resilience Semester at Western Colorado University to investigate this critical question during an immersive sustainability gap program through exploration, learning, and action. Seeking professional experiential field educators. Apply today at tinyurl.com/MRSfieldstaff; June 11, 2021 deadline.
Denver Metro Chamber Leadership Foundation Program: Colorado's Civic DNA Fellows
It takes leadership to rally a community, solve tough challenges and create change. Colorado's Civic DNA Fellows, the Denver Metro Chamber Leadership Foundation's newest offering helps leaders with a deep commitment to our community to further develop their leadership skills so they can increase their business and civic impact. The application deadline is June 14. Program dates: August – March 2022. Tuition is $4,900. Scholarships opportunities will be made available.
Denver Metro Chamber Leadership Foundation Program: Access Denver
The Summer program runs August 5-6. Tuition is $1,850. Scholarships may be available. For the busy senior-level executive, an overview of the issues facing the Denver metro area and opportunities to make valuable connections through exclusive networking events into this two-day program.
Learn about the most critical issues facing our community
Make connections to activate your personal network
Raise your organization's profile in the leadership community
Become part of an influential network of diverse leaders as a Leadership Foundation alum
Access Denver is ideal for senior-level executives new to the Denver metro area, recently promoted or looking to find opportunities to engage in the community in a two-day format.
Rachel's Network Catalyst Award
The Rachel's Network Catalyst Award recognizes women of color making an environmental impact in communities across the country with prizes of $10,000 per recipient, public recognition, and networking and leadership opportunities. Nominations are due June 14. Applications are due June 17.
Endangered Species Coalition Activist Training Lab
During the year-long Activist Training Lab program, you will be part of a cohort of 12 – 16 people from across the United States, of different ages and backgrounds, who all care about protecting our planet and our people. Together, you will attend engaging webinars every other week and gain hands-on experience with organizing. Whether you want to expand your skills as a volunteer activist, take the first step towards a career in organizing, or learn how to act on a pressing issue in your community, this program could be a great fit – and it only requires 10 hours of your time each month.
If you have a passion for protecting biodiversity, advancing environmental justice, and making an impact through grassroots organizing, apply now! Marginalized communities are often "hurt first and worst" due to biodiversity loss. Therefore, we especially encourage you to apply if you identify with a traditionally marginalized community, including (but not limited to) people of color, Indigenous people, youth, senior, and LGBTQ+ , low-income, and/or immigrant community. Applications are due June 30th, 2021 and the program will start in September 2021.
Black Lives Matter Actions & Resources
For those looking for ways in which to stand up and demand an immediate end to police brutality and defend Black life, here are some resources:
Measures to support in Denver/Colorado:
Actions to take:
Groups to listen to, donate to, and follow the lead of:
Places to donate to:
Resources to learn more:
Organizations working towards equity in the outdoors:
Environmental Activities to Do From Home
For those looking for educational things to do with their kids (or to do yourself; these are quite good things), here are some excellent resources:
Resources here in Colorado if you need some help right now
For those struggling with coronavirus related issues, here are some resources including food resources, shelter and housing resources, unsafe stay-at-home situation resources, mental health resources, and more:
Food Resources:
Shelters and Housing:
Unsafe Stay-At Home Situations:
Mental Health Resources:
Knowledge About Bills and Executive Orders That Could Help:
If you know of a resource that should be on this list but isn't, please let me know.
Events happening in-person
For those who feel safe, here are some events happening in person. Please practice proper distancing and wear your mask while taking part in these events:
6/3-6 Durango – Animas River Days. Animas River Days includes these sporting events: river surfing, stand-up paddling, freestyle kayaking, boatercross, raft and kayak slalom, an inflatable rodeo and the local's favorite costumed river parade.
6/6 Denver – Denver Plant Swap at EarthLinks. PPAN is partnering with EarthLinks, Front Range Wild Ones, and the Metro Denver Chapter of the CO Native Plant Society for a Denver Plant Swap.
6/8 Near Longmont – Fish Hawks of Boulder County. What hawk-like bird has a white head, eats fish, and spends the summer and nests in Boulder County? Osprey! Join volunteer naturalists for this drop-in program to observe and learn about this remarkable bird of prey. An osprey pair has nested at this site for several years, and we may see adults and young looking for food and trying out new wings. Bring a bird field guide and binoculars if you have them. All ages are welcome.
6/9 Denver – Groundbreaking for ELK Building & Opening of Montbello Open Space. Please join Denver Parks & Recreation (DPR) and Environmental Learning for Kids (ELK) and the Trust for Public Land (TPL) on June 9 for a groundbreaking celebration for the ELK education center building and a celebration of the Montbello Open Space park!
6/10 Near Lyons – Seasonal Skies. Enjoy the opportunity to see the night sky in a dark location. Discover why we see different constellations at different times of the year, and how seasons affect our view from Earth. Short program followed by sky viewing and constellations identification. All ages are welcome.
6/12 Telluride – Outdoor Photography Workshop with Sarah Schwab. Join photographer Sarah Schwab for a walk-and-talk class about photographing the world around you! Whether you use a smartphone, a point-and-shoot, or a more complex camera, you'll find Sarah's tips useful in composing amazing outdoor photos! In this class, you'll practice discovering a subject, building connection with it, documenting it and sharing the story. You'll also hear great tips about technical details, composition, optimizing lighting, and more. Take your photography game higher no matter what your equipment is, and celebrate our local great outdoors at the same time!
6/13 Colorado Springs – Garden of the Gods 10 Mile/10K Run. The Garden of the Gods Ten Mile and 10k has always had it all — a spectacular setting, a physically demanding course, competition in almost every age-group, excellent runner support, unique awards and great shirts. This is one of the most beautiful and challenging road race venues anywhere! The course will loop you through the incredible Garden of the Gods Park which lies between Manitou Springs and Colorado Springs. The course elevation ranges from 6,210′ up to 6,530′ and back down and up and down and over and around all over again. The race is run primarily on asphalt roads, with the exception of a 3/4 mile section run on the breathtaking concrete walk-way system (far wider than a simple sidewalk) that winds its way through the heart of the Garden's most amazing rock formations. Indeed, the formations are so amazing they bring visitors from around the world!
6/14 Near Boulder – Foothills Wildflower Hike. Join volunteer naturalists for a spring wildflower hike in the beautiful foothills west of Boulder! We will hike about 1.5-miles through forest and meadows in search of spring wildflowers, while enjoying beautiful views of the snowy high country. All ages are welcome.
6/15 Louisville – iNaturalist for Teens. Youth ages 10-18 and interested parents will meet at Community Park, and take a short hike on the Coal Creek Trail to practice observing nature, and to learn how to use the iNaturalist app to capture what you see. Discover how to be part of the Boulder County wildlife and plant projects on iNaturalist. A follow-up Zoom session will be held Tuesday, June 22 at 3:30 pm for you to share your photos! This program is hosted by Boulder County Parks and Open Space.
6/16 Near Louisville – Bears in our Backyard. As summer approaches, Boulder County's black bears are busy raising cubs and searching for food to get through summer and to begin preparing for their long winter sleep. Join volunteer naturalists for this presentation to learn about the natural history of our local bruin and how people and bears can share our wild places. All ages are welcome.
6/21 Near Nederland – Celebrate Summer Hike. Join volunteer naturalists to celebrate the coming of summer to the high country! On this easy 1.5 mile hike we will explore the natural history of the area including wildflowers, wildlife, and forest ecology. We will also talk about summer weather patterns and safety in the mountains. All ages are welcome.
6/30 Near Boulder – Wetland Hike for Seniors. Join naturalists for an easy early summer walk to explore the ponds and observe songbirds, water birds, raptors, and maybe some spring babies. We will also watch for signs of other critters that call wetland ecosystems home.
7/9 Pueblo – 30th Anniversary Zoofari. Join Pueblo Zoo for this exclusive event and experience – a Zoofari like you've never seen.
8/1-31 Anywhere – Run Like a Wolf. The Wolf Conservation Center is challenging you to get outside, wherever you are, to complete 100 miles on foot, or 200 miles of biking, during the month of August in our Run Like a Wolf 100 Mile Virtual Challenge! If you're really up for a challenge, you can do both!
8/12 Aspen – Wild Feast Benefit. Wilderness Workshop invites you to our annual Wild Feast benefit, an evening to celebrate conservation and public lands, held outdoors in the courtyard of the Hotel Jerome in Aspen on Thursday, August 12. Join us for cocktails, dinner, and a special guest speaker to raise critical funds for Wilderness Workshop's efforts to increase protections for public lands, build an equitable environmental movement, and fight the climate crisis.
8/21 Fort Collins – Northern Lights & Lobos 2021 Gala Fundraiser. Join WOLF Sanctuary for a frosty affair to remember under the aurora borealis—inclusive of a meet and greet by an ambassador wolf dog, a gourmet vegan/vegetarian meal, unique silent auction items, and much more!
10/8 Denver – ELK 'n Eggs. ELK 'n Eggs, presented by Environmental Learning for Kids is our biggest fundraiser of the year – we can't wait to have you join us! Join us for a morning of joy and family at this year's ELK 'n Eggs event on the morning of October 8th, 2021 from 7:30-9:00 am at the Denver Museum of Nature and Science.
Events happening online
Here's a list of environmental events, happening online:
Community Science
Here are some community science projects you can sign up for. Please keep in mind that due to coronavirus some of these projects may not be immediately available this field season:
Jobs and Internships
Here are some job and internship openings in environmental fields. For equity reasons, we only post job postings with transparent salary ranges:
Volunteer Positions
Here are some volunteer positions. Please practice proper distancing and wear your mask while taking part in any in-person volunteer opportunities:
Direct Environmental Actions
Urgent actions (those will deadlines fast approaching):
New actions since last week:
Rocky Mountain Wild's older (but still relevant) actions:
Take action with Rocky Mountain Wild and sign the petition stating that you support wildlife crossing structures in Colorado. Rocky Mountain Wild
Take action with Rocky Mountain Wild and help protect bighorn sheep. Rocky Mountain Wild
Action Resources: