Lawsuit alleges lack of environmental studies invalidates lease sales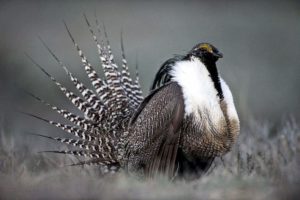 By: Jim Mimiaga, The Durango Herald
October 16, 2017
Three environmental groups, along with San Miguel County, have filed a lawsuit against the Bureau of Land Management alleging improper approval of oil and gas lease sales near the threatened Gunnison sage grouse.
San Juan Citizens Alliance, Rocky Mountain Wild, Conservation Colorado and San Miguel County argue the BLM failed to properly consider the impacts of drilling activity on the bird, which was listed as threatened under the Endangered Species Act in 2014.
They want the court to set aside 10 lease parcels sold in March in western San Miguel county to allow for additional studies.
Eight of the leases, located in the Dry Creek Basin area, are tucked between two occupied critical habitat areas of the Gunnison sage grouse.
Read more at The Durango Herald.