Our virtual showing of the Wild & Scenic Film Festival is two weeks away! And we're excited to bring you a preview of what we've got scheduled. The evening itself includes award-winning environmental films that have been selected for their great visual stories, but also for their inspirational qualities that motivate us to continue the cause to keep the Rocky Mountains (and everywhere else) wild.

This year, we're pairing the films with an online auction and days of action! Check out everything we've got planned below.
Films, November 4, 7-9 pm MT
We will be screening five inspirational films during this year's screening. In alphabetical order:
American Ocelot – This is the story of one of the most endangered and beautiful wild cats in the United States. With fewer than 100 remaining in the US, the ocelot is genetically isolated and only exists in Texas. With many factors acting against them, there is still hope for their survival… if opposing parties can come to an agreement on their management methods.
Dear Mother Nature – Wyn Wiley (he/him), aka Pattie Gonia (she/her), has made waves over the past year as an environmental advocate drag queen. We follow Wyn as he travels to Hawaii to see first-hand the impacts of careless consumption and plastics on Mother Nature. Wyn meets with scientists, non-profit leaders, volunteers, then rallies the Pattie community to lead a beach clean-up. Ultimately, Wyn partners with sustainable fashion designer, Angela Luna, to create three dresses that personify the plastics crisis. Watch the trailer on YouTube.
Feathers in Flight: The Bird Genoscape Project – To help one of North America's rarest birds, the Southwestern Willow Flycatcher, biologist Mary Whitfield has joined a cutting-edge effort called the Bird Genoscape Project (BGP). Led by Kristen Ruegg and Tom Smith, the BGP gathers data on birds' genomes from individual feathers, allowing the researchers to connect breeding and wintering populations of the same species and provide critical information to conservationists and managers. Just as importantly, the project brings together researchers from all over the Americas in an effort to protect the birds that tie the Western Hemisphere together. Watch the trailer on Vimeo.
If We Take Care of the Land and Water, It Takes Care of Us – Young Fina lives in San Luis, Colorado, one of the state's oldest towns. Her family and community keep an historic tradition of equitable distribution of water. She shares how maintaining that practice into modern times sustains the spirit of community and the strength of generational farms and ranches.
Pedal Through – In Pedal Through, you are invited into the world of director-lead Analise Cleopatra as she discovers the healing and joy of mountain biking. Analise had never camped or ridden a bike off the pavement when she decided to plan a week-long mountain biking adventure with an all-Black female team: her best friend and fellow newcomer to the sport, Day Toliver, and professional mountain biker Brooklyn Bell. Together, they traverse the Oregon backcountry on an adventure full of exploration, curiosity, waterfalls, old-growth forest, sparkling starscapes, and deep healing. With raw authenticity, Analise shares all the intimate foibles, fear, fun, and beauty of discovering her place in the outdoors. The landscape opens to greet her as she learns to lean into uncertainty, accept support, and trust herself on this wild ride. Watch the trailer on YouTube.
The films start at 7:00 pm and tickets range from $15-60. Including a ticket option, for local viewers, of Dinner and Some Movies! Wulf Down Co is providing a delicious Puerto Rican vegan Black Bean Bowl box dinners for two that can be picked up in Denver (at Hooked on Colfax) or Boulder (at Upslope Brewing Company) the day of the event! I can personally vouch for Tania's decadent walnut chorizo and plan on ordering for Dana and myself.
We understand that a lot of families have been hit hard by the coronavirus and unemployment. While this event is replacing our largest fundraiser of the year, it is our goal that anyone who wants to attend the festival can, regardless of their current financial situation. If you have been affected and would like to attend the film festival, please email me to arrange for a complimentary ticket.
Register to enjoy these amazing films and livechat with our staff and other attendees!
Auction, October 31-November 6
On top of being a great night of films, the Wild & Scenic Film Festival doubles as a fundraiser to support our work protecting, connecting, and restoring wild lands and wildlife in the Southern Rocky Mountains. As part of that effort, we're hosting an online auction!

The auction starts at 8:00 am MT on October 31 and closes at 12:00 pm on November 6. For information on how to register to bid and to see all of the items in the auction, visit our SilentAuction Pro Wild & Scenic Online Auction page.

Auction items donated by businesses that have made a commitment to sustainability (through 1% for the Planet member, Climate Neutral Certification, The Conservation Alliance, Certifiably Green Denver, Good Food 100 Restaurants, and/or Green America Certification) are indicated with an *:
Ambler*
Baskets of Africa*
Belong Wine Co*
Coffee Bros*
Embark Maple Energy*
Hibear Outdoors*
Icebox Knitting
JOOB Activewear*
JuneShine*
Kindhumans*
Klean Kanteen*
Little Lentil Clothing*
MODL Outdoors*
Murphy's Naturals*
Native Maps*
Ornot Bikes*
Pakt.*
Peak Design*
Portland Design Works*
Rogue Wave Toys*
Sackcloth & Ashes*
Shuki*
Sierra Nevada
Wandering Bison*
Loved Again Baby Bundle from Little Lentil Clothing
Everyday Sling from Peak Design
Certified Compostable Beach Toys from Rogue Wave Toys
Register to bid on these items and more in our online auction!
Action, November 1-3, noon MT
For years, we've paired the Wild & Scenic Film Festival with our Community Action Hub. The Community Action Hub featured direct actions that attendees could take during the live event to make a real difference in Colorado and beyond. Last year, due to the pandemic, we offered the Community Action Hub as a Zoom event online. There were five actions to take, which, unfortunately, meant that our sponsors had mere minutes to talk about their actions.
This year, to create spaciousness for our sponsors to share their action, its importance, and answer attendees' questions, we will be holding a series of lunch and learns during the week before the film festival! All lunch and learns will start at noon MT and will last an hour. Register for the day or days that most interest you!
November 1: Rename Mount Evans and Increase Our Wilderness
Rename Mount Evans with The Wilderness Society
Content warning: mention of an Indigenous massacre
Colorado's Mt. Evans Wilderness provides habitat for pika, bighorn sheep and mountain goats, but its namesake has a violent legacy. The mountain is named for former Colorado Territorial Governor John Evans, who was forced to resign in disgrace after he was found to be complicit in the murder of more than 200 Cheyenne and Arapaho, including many women and children, at what has become known as the Sand Creek Massacre. The Cheyenne and Arapaho tribes recently filed a petition to change the name of the mountain to "Blue Sky" in honor of both tribes and The Wilderness Society has supported their efforts to rename both the mountain and the Wilderness.
Increase Our Wilderness with Wild Connections
Now is the time to pass more Wilderness in Colorado! The Colorado Wilderness Act and CORE Act have passed the US House four times in the past two years as part of the greater Protecting America's Wilderness Act. This bill would protect about 1.3 million acres of wilderness and over 1,000 Wild & Scenic river miles in the US, including over 1 million acres of public lands protections in Colorado! This is the down payment we need to meet the America the Beautiful initiative, to protect 30% of US Lands and Waters by 2030. Let's tell our Colorado Senators that their leadership is needed to champion this bill!
Register to join this Wild & Scenic Day of Action!
November 2: Give Input on Wolf Restoration, Protect Colorado's Bureau of Land Management Land, and Clean up Colorado's Air
Give Input on Wolf Restoration with Endangered Species Coalition
The Endangered Species Coalition will be presenting resources and next steps for potential advocates to use as Colorado Parks and Wildlife Commission begins to craft a plan to reintroduce and manage gray wolves in the state. These resources can be used to educate yourself as well as arm you with the knowledge and tools to write comments to the Commission and ensure their plan truly works to protect these valuable species.
Protect Colorado's Bureau of Land Management Land with Colorado Wildlands Project
We are collectively failing to protect Colorado's Bureau of Land Management roadless public lands, or wildlands. Congress has not acted to protect a single acre of BLM wildlands since 2009. Only 8% of Colorado's 8.3 million acres of Bureau of Land Management public lands are permanently conserved. Land conservation is climate action, and the President's America the Beautiful goals to protect 30% of lands by 2030 are a call to action. Join the Colorado Wildlands Project in calling on Colorado's U.S. Senators to prioritize protection for Bureau of Land Management wildlands to conserve wildlife, protect scenery, habitat and recreation and to take action for our climate!
Clean up Colorado's Air with the Center for Biological Diversity
The Colorado Air Quality Control Commission is going to be making new protective measures to control the emissions of greenhouse gases, as well as smog pollution, from the oil and methane gas industry. We will discuss how to comment in this process and what one can ask for.
Register to join this Wild & Scenic Day of Action!
November 3: Protect Biodiversity and Make the Move Toward Waste-Free
Protect Biodiversity with Defenders of Wildlife
Individual action is essential to solving our biodiversity crisis, but it's not enough on its own. The current political landscape presents us with historic opportunities to reshape the federal rules and regulations that guide how we manage and protect our wildlife and wildlands. From reforming the oil and gas leasing system to making biodiversity protection a core tenet of the Biden administration's agenda, we have the chance to make real change and secure a better future for our planet. Defenders of Wildlife will dive into one of the latest breaking actions to shape federal policy, and how you can influence your elected officials.
Make the Move Toward Waste-Free
Simple Switch will present tips for living a waste-free lifestyle.
Register to join this Wild & Scenic Day of Action!
We hope you can join us for the films, auction, and actions happening throughout the week. If you would like to share this event with others, please do! Either share this email or we have a handy media kit that can help you share via social media.
For the Wild!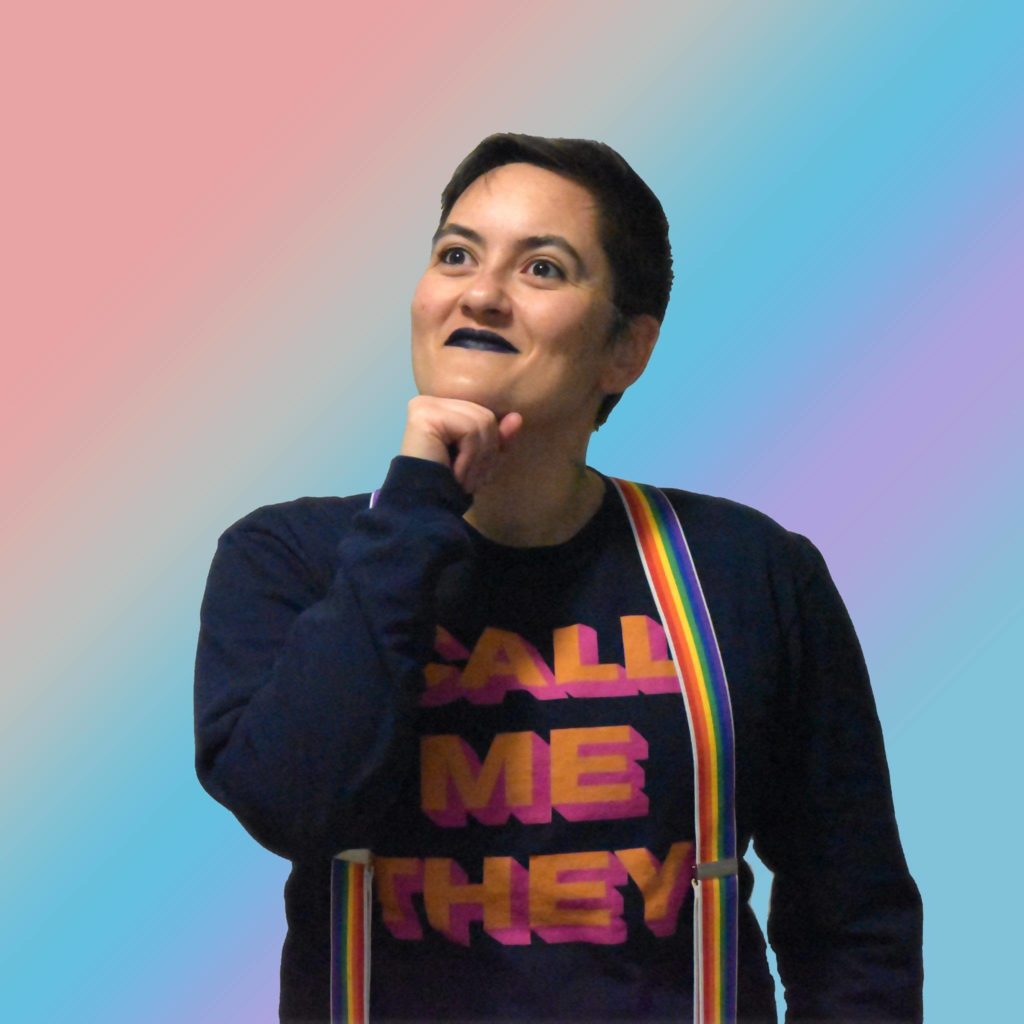 Chris Talbot-Heindl (they/them)
Communications & Membership Manager
Rocky Mountain Wild