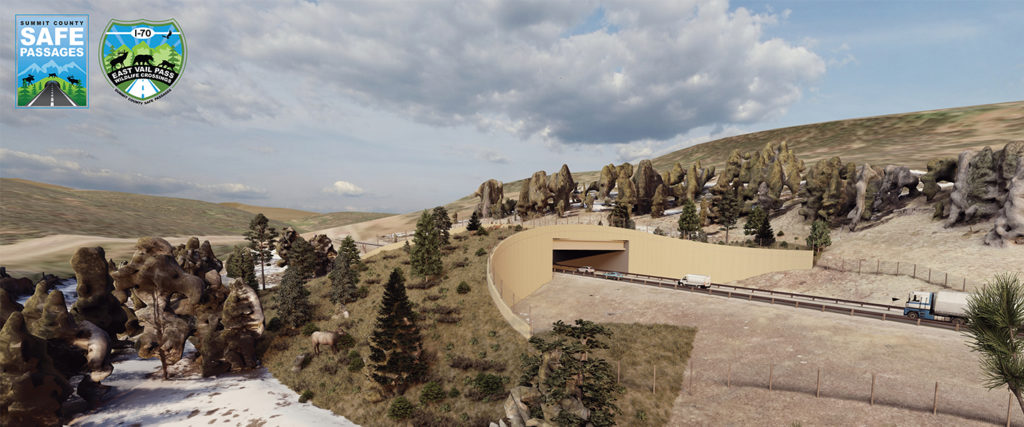 As many of you know, Rocky Mountain Wild is a founding partner and fiscal sponsor for Summit County Safe Passages, a coalition of state and federal agencies, non-profit organizations, the outdoor industry and mountain communities, working toward a common vision of balancing wildlife needs with the ever-growing human population in Summit County.
Today, this partnership is one step closer to realizing its vision of reconnecting the relatively intact landscape along I-70 on the east side of Vail Pass. A feasibility study, completed in the Fall of 2020 by Wood Engineering, developed and evaluated preliminary engineering designs for three proposed crossing structures on East Vail Pass. These proposed structures, which include an overpass and two underpasses, will reconnect this important landscape for a wide variety of wildlife species, including the elusive Canada lynx. This study was made possible with funding from A-Basin, Vail Resorts and the Center for Large Landscape Conservation. With the feasibility study now complete, we have set our sights on getting the project through final design with funding from a variety of private, public, state and federal sources.
This team has also been honored by multiple awards in 2020. First, Colorado Parks and Wildlife awarded Summit County Safe Passages with their 2020 Northwest Region Partner of the Year Award. Organizations honored by this award play an integral role in advancing and balancing outdoor recreation and conservation in Colorado. Second, Ashley Nettles, with the Dillon Ranger District of the White River National Forest was recognized for her work making Summit County Safe Passages a reality with the Public Lands Alliance's 2020 Agency Leadership Award. This award recognizes Ashley for her "outstanding accomplishments in championing, cultivating and leading partnerships." We couldn't be more grateful to have Ashley on our team.

If you would like to support Rocky Mountain Wild's work with wildlife crossing structures in 2021, there are three main ways you can do so:
Donate for Colorado Gives Day (December 8). When you donate on Colorado Gives Day, your donation will go even further thanks to the $1 Million Incentive Fund from Community First Foundation, FirstBank, and other community members! 
Purchase the symbolic naming rights for a species of your choice you'd like to protect with wildlife crossing structures in our Biodiversity 2020 Campaign. Your donation is tax-deductible, and your named species or landscape will be included on our website. This is a great way to give a gift of biodiversity to someone you love this holiday season!
Join our Super Species Squad by becoming a monthly donor to Rocky Mountain Wild. Monthly donations are our most stable source of funding!
Thank you again for supporting wildlife crossing structures in Colorado. We look forward to keeping you informed about progress to make our roads safer and more wildlife friendly.

For the wild,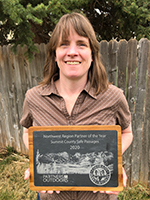 Paige Singer (she/her)
Conservation Biologist/GIS Specialist
Pictured with the 2020 Northwest Region Partner of the Year Award
P.S. If you would like to learn more about our other work, check out this story map of our 2020 program highlights!