Update: According to an email from Phillip Courtney, Solid Minerals Leasing Manager, Colorado State Land Board, sent 3/12/2019, 1:47 PM: The agenda item pertaining to the proposed mining lease in Fremont County originally scheduled for the State Land Board's March 14 meeting has been postponed due to the forecasted extreme inclement weather. It is rescheduled for our April 11 meeting in order to accommodate all interested parties, including the agency's commissioners, the prospective lessee, and the public.
The Colorado State Land Board is meeting in Denver on Thursday, April 11. They are recommending allowing mining in a State Stewardship Trust parcel near Cañon City. We need people to attend the meeting and tell the State Land Board that mining should not happen in this rugged landscape that provides great habitat for bald eagles and bighorn sheep.
The meeting will be held at 1127 Sherman Street in Denver on Thursday, April 11. The April agenda's schedule will be posted publicly one week prior to the meeting. The Mining Lease SM 112413 memo describes the scope of the project. Comments submitted on the project are included in the agenda packet for the March 13, 2019 State Land Board meeting (when this was originally scheduled to be discussed).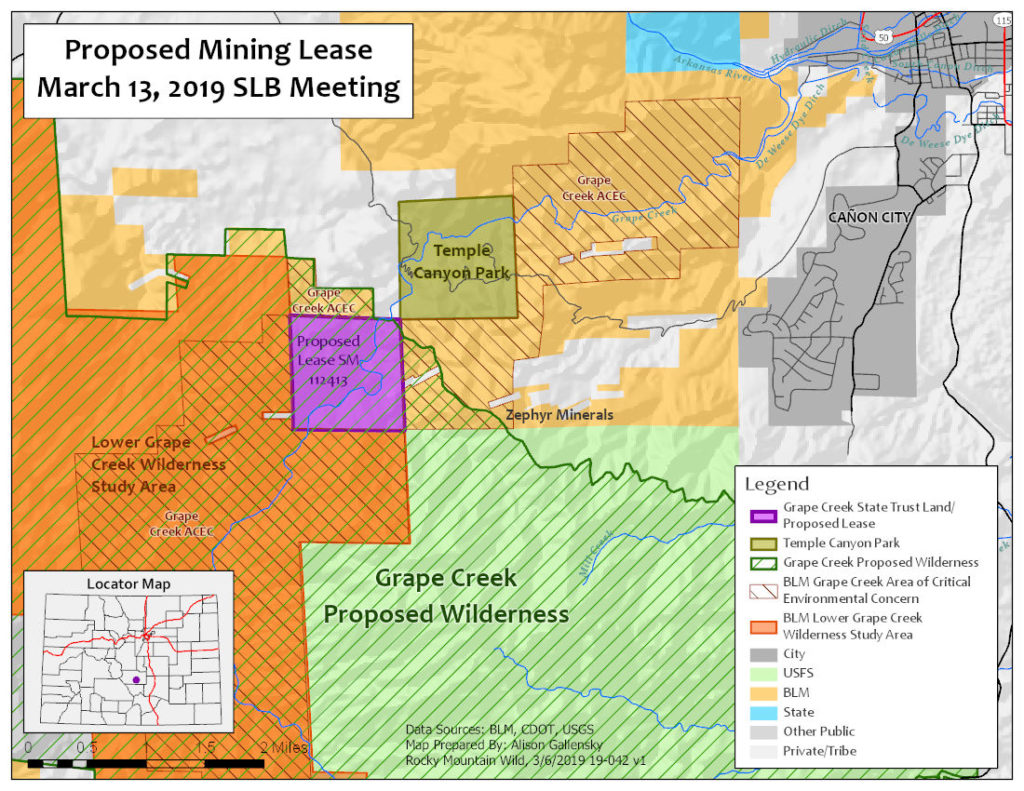 The Colorado State Land Board manages millions of acres of land across Colorado. The State Land Board was created when Colorado became a state in 1876 to manage these lands in order to generate revenue for schools. In 1996, a ballot initiative passed requiring the State Land Board to identify 10% of the land they manage as Stewardship Trust Lands. The Stewardship Trust Lands have the highest levels of natural beauty, wildlife values, and other features. The State Land Board is required to manage the lands to maintain those values.
The Grape Creek State Trust Land is part of the State Stewardship Trust. Mining for gold and other minerals is not compatible with sound stewardship of this land. Please help us protect this important area by speaking out at the State Land Board meeting on April 11, 2019.
Learn more:
Read about why the local conservation organization Wild Connections opposes mining on the Grape Creek State Stewardship Trust area in the Pueblo Chieftain.
Learn more about issues with mining near Canon City here.
Learn about the Lower Grape Creek Wilderness Study Area on adjacent Bureau of Land Management lands.
Learn about the Colorado Wilderness Act of 2018 that includes the Grape Creek Proposed Wilderness.
The 35,535 acre Grape Creek Proposed Wilderness includes lands managed by the Bureau of Land Management, the United States Forest Service and the Colorado State Land Board. Grape Creek is described in the bill as "a secluded and serene body of water that flows into the Wet Mountain Valley of southern Colorado. This creek is responsible for nearly all the snowmelt that comes through this valley, creating a lush habitat with diverse vegetation and wildlife. Grape Creek above all is a destination for fisherman. It has few points of access, and can be successfully fished throughout numerous seasons due to the low elevation of the Valley. These factors create a pristine environment that is a haven for both fish and fisherman alike, a true example of sustainable Colorado recreation."