By: Dennis Webb, The Daily Sentinel
August 20, 2016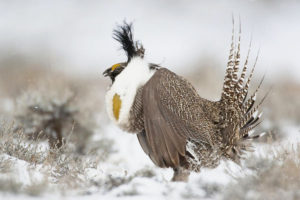 Conservation groups are contending a draft federal plan would do too little to protect the Gunnison sage-grouse, while others including the oil and gas industry and Mesa County are continuing to analyze the proposal.
The Bureau of Land Management released a draft environmental impact statement earlier this month. The agency is seeking to amend up to 11 resource management plans in western Colorado and eastern Utah to protect the bird, which the U.S. Fish and Wildlife Service decided to list as a threatened species under the Endangered Species Act.
"BLM's draft plan does not include safeguards that are needed to protect some of the best remaining Gunnison sage-grouse habitat from oil and gas drilling and other threats," Megan Mueller, senior conservation biologist with Rocky Mountain Wild, said in a news release from several environmental groups.
Read more at The Daily Sentinel.