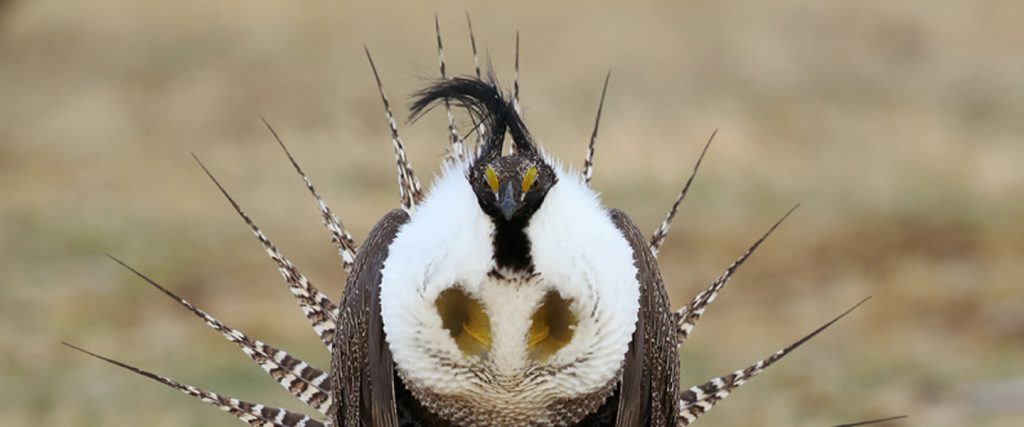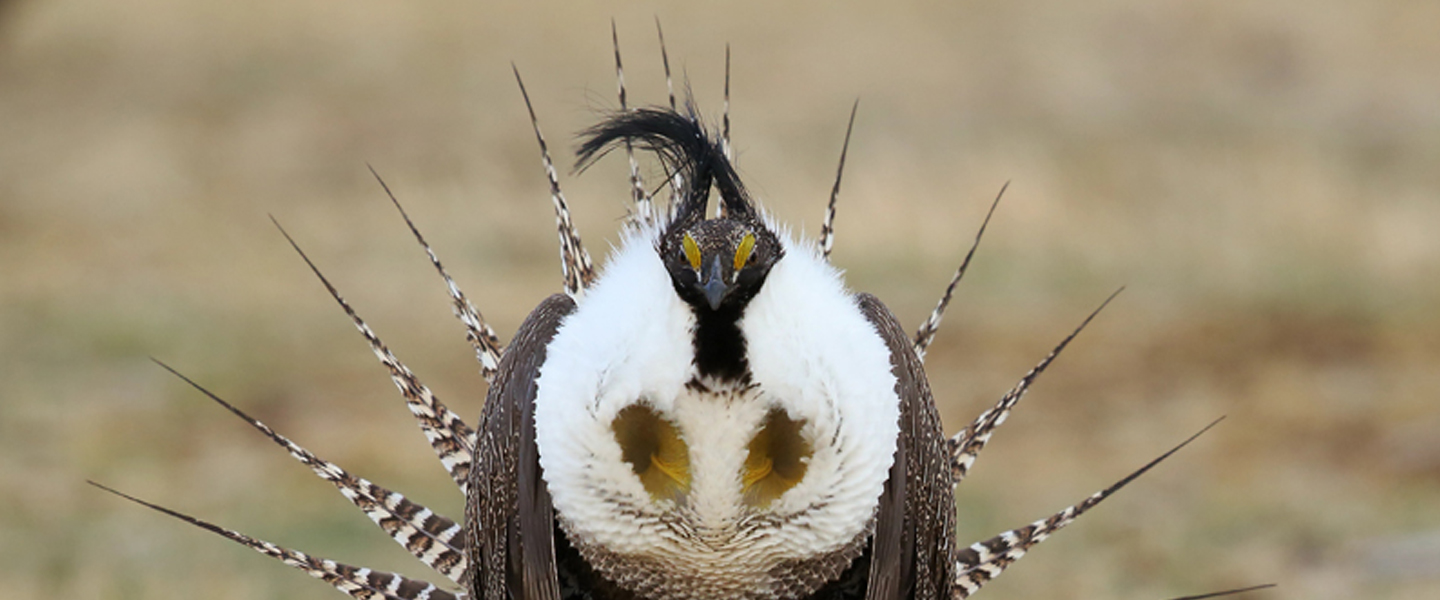 By: Megan Mueller and Matt Sandler, Rocky Mountain Wild
So many of our followers have taken great action to Stand with Gunny and other wildlife the call our prairies home. Together, we have gained Endangered Species Act protection for Gunnison sage-grouse, improved safeguards for Gunnison sage-grouse in management plans, fought to stop oil and gas leases, and sought permanent protections of sage-grouse habitat.
But, unfortunately, our work is far from done. Last month Colorado Parks and Wildlife released data indicating that they counted only 429 males at leks (mating grounds) this year. This is the lowest count of males since standardized counts began in 1996, and is down from a high of 1,129 in 2015. Two extreme winter seasons (a very dry winter in 2017-18, and deep snow in 2018-19) created challenging conditions for the birds and made it difficult for biologists to get to leks to do surveys. The decline in the number of males counted is likely due to a combination of environmental conditions and inability to access some leks to count males this spring. Regardless of the reason, these plummeting numbers are of great concern and could mean that this rare bird has moved one step closer to extinction. Now is not the time for complacency when it comes to fighting for Gunny's survival!
Over the last three years the Bureau of Land Management (BLM) has undertaken an aggressive campaign to lease vast areas of our public lands to the oil and gas industry. This has resulted in BLM leasing land for oil and gas development in areas that are critical to Gunny's ultimate survival. Research shows that the grouse are negatively impacted by the noise and infrastructure associated with this type of activity, and that these disturbances can reduce mating success. We have pushed back and are suing the BLM to stop oil and gas leasing in and around grouse habitat. If we prevail, we will stop development of 8,000 acres of public land and protect critical Gunnison sage-grouse habitat.
We are also working to get BLM to designate Areas of Critical Environmental Concern to protect important grouse habitat. We have nominated these areas for protection and provided hundreds of pages of data showing that the areas meet the criteria for protection. The agency is illegally delaying considering protections for these areas, while grouse numbers continue to decline. We stand ready to go to court if necessary to compel the BLM to act now to protect critical habitat before it is too late.
You can help us continue this fight by donating to our Stand With Gunny campaign. A donation of any size can keep our momentum going.
You can make a one-time donation or join our Super Species Squad by becoming a monthly donor! If you would like your donation to go to the Stand With Gunny Campaign, choose "#StandWithGunny" under "Direct My Donation."
It's been said that "change happens when dreamers band together." We dream of a future where we can tell our grandchildren about how we brought this incredible bird back from the brink of extinction. A story about how sound science, persistent advocacy, and the support of a caring community turned the tide for this species, so that you can still see the wonder of Gunny dancing in the first light of sunrise on a frozen prairie field.
Won't you join us?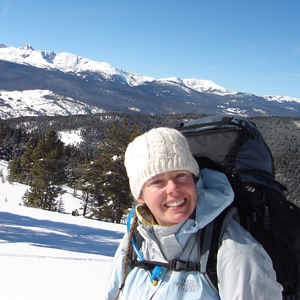 Megan Mueller
Senior Conservation Biologist
Matt Sandler
Staff Attorney
P.S. You can take action to help protect the Gunnison sage-grouse by telling the BLM State Director, Jamie Connell, to protect habitat in southwestern Colorado. Just follow this link to sign our online petition.