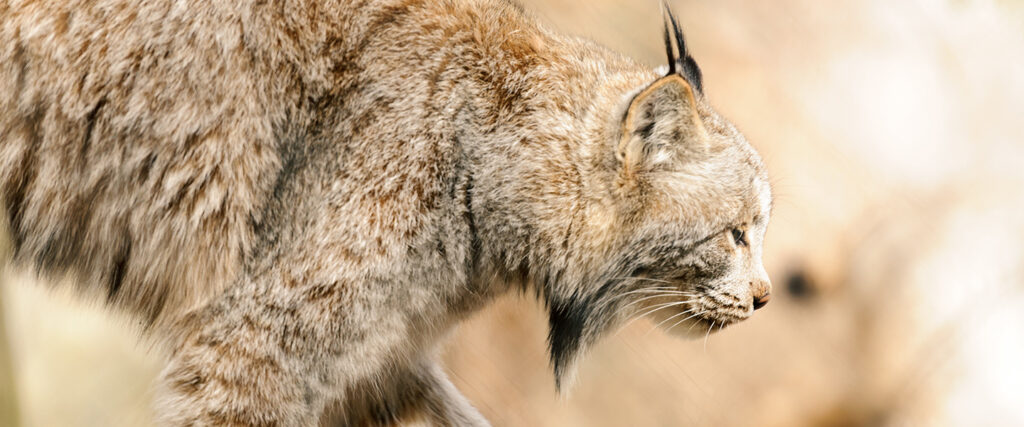 Species: Canada lynx
Scientific Name: Lynx canadensis
Status: Threatened
The elusive Canada lynx once ranged from Alaska to northern New Mexico, west into California, and east to Maine. By the early 1970s, Canada lynx were all but eliminated from the Rockies due to trapping, shooting, and habitat degradation.
Between 1999-2007, 218 lynx were reintroduced to southwestern Colorado, but new problems like highway mortality, habitat fragmentation, ski area expansion, and lack of adequate habitat protections dwindled their numbers. Learn more about Canada lynx and see what you can do to help protect them.
And attend our live webinar with connected landscape expert!
Partners:
A huge thank you to our Links for Lynx partner:
Here are some things you can do to learn more about Canada lynx and wildlife corridors:
Join us:
Join us and our friends for a live lunch and learn Zoom event Links for Lynx.
Wednesday, May 19, 12:00-1:00 pm MT
Registration: Save your seat as space is limited.
Share: Feel free to invite your friends using our Facebook event page!
Grab your lunch and join Rocky Mountain Wild's wildlife biologist, Paige Singer, for an exploration of one of Colorado's most important wildlife movement corridors – East Vail Pass. East Vail Pass is home to one of the few known breeding populations of Canada lynx outside of southwest Colorado, and radio-collar data have shown that resident lynx frequently cross I-70 in this area. RMW, and our partners, have been advocating for wildlife crossing structures to be built in this important wildlife movement corridor for over a decade. Today, this partnership is one step closer to realizing its vision of reconnecting the relatively intact landscape along I-70 on the east side of Vail Pass with the completion of the I-70 East Vail Pass Wildlife Crossings Feasibility Study in the Fall of 2020 by the Wood Engineering team. The feasibility study developed and evaluated preliminary engineering designs for three proposed crossing structures on East Vail Pass. These proposed structures, which include an overpass and two underpasses, will reconnect this important landscape for a wide variety of wildlife species, including the elusive Canada lynx.
Paige Singer will give participants a personal tour of a StoryMap created to tell the story of the importance of East Vail Pass and the findings of the feasibility study.
Missed the event? Watch the play back on Youtube!
---
Read:
For Adults:
For Kids:
---
Do:
For Adults:
For Kids:
---
Watch/Listen:
For Adults:
For Kids:
Learn about the importance of habitats with "Home Sweet Habitat," from Crash Course Kids (5 minutes).
---
Check out our Colorado Endangered Species Week page for more days of activities!
Feel free to download our Canada lynx card below! Simply right click and save.