Despite all the turmoil of 2020, we had an incredibly successful season!
2020 was not the easiest year for anyone, and that included our Pika Patrollers in the Front Range Pika Project. Coronavirus caused layoffs at our partner organization, Denver Zoo, and prevented us from training new volunteers, as well as caused some changes in access to some of our pika sites. Then rabbit hemorrhagic disease meant that we had to create new protocols for our returning volunteers to safely collect data while preventing the spread of this disease to pikas. And then, we saw an unprecedented wildfire season, across some of our study areas, which meant that much of Rocky Mountain National Park was off-limits during the season, and some of our community scientists were evacuated from their homes! It was not an easy year, for sure. But, despite all of that, we had an incredibly successful season, thanks to all of our dedicated community scientist volunteers!
Here's what we were able to accomplish with the help of our supporters, donors, and our community scientists:
We developed a brand new Pika Partners website!
Our staff and volunteers ground-truthed 40 new sites in the Rocky Mountain National Park and White River National Forest projects!
Front Range Pika Patrollers made it out to 32 sites and conducted 85 surveys, for an estimated 1,360 hours of effort!
White River National Forest Pika Patrollers made it out to 59 sites and conducted 72 surveys, for an estimated 1,000 hours of effort!
Rocky Mountain National Park Pika Patrollers made it out to 23 sites and conducted 29 surveys, despite the fact that a huge amount of the Park was off limits due to the wildfires!
And we, with the help of Jo Varner and Christopher Sprague, created the long-awaited Pika Patrol app that will be available soon in the Google Play Store!
For more information on what we were able to accomplish in 2020 as well as some fantastic photographs, please check out Lauren Buchholz's Pika Story Map!
This was an incredible year, despite all the challenges, and really, would have been even if we hadn't faced all those obstacles! I want to thank all of our supporters, donors, and especially our community scientists for making this possible, and invite you to donate to our future efforts. We still have many more sites (that we couldn't reach this year) left to ground-truth, some adjustments to the app to make it usable on an iPhone, and of course, another year's worth of community science training and data collection to fund in 2021! This year, there are four main ways you can support this work:
Donate for Colorado Gives Day (December 8). When you donate on Colorado Gives Day, your donation will go even further thanks to the $1 Million Incentive Fund from Community First Foundation, FirstBank, and other community members! To make sure your donation goes to this program, you can select "Program" at the "Where do you want your donation directed?" drop-down, and select "Front Range Pika Project."
Purchase the symbolic naming rights for a pika or other components of our biodiversity in our Biodiversity 2020 Campaign. Your donation is tax-deductible, and your named species or landscape will be included on our website. This is a great way to give a gift of biodiversity to someone you love this holiday season!
Adopt a pika! Adoptions make a great gift for any holiday. They come with an adorable American pika plush animal and a personalized e-certificate of adoption.
Join our Super Species Squad by becoming a monthly donor to Rocky Mountain Wild. Monthly donations are our most stable source of funding! Select "Front Range Pika Project" if you would like your donation to go to this program.
And, thanks to a generous donor, any increased or new donations will be matched up to $10,000! Please consider giving a gift today.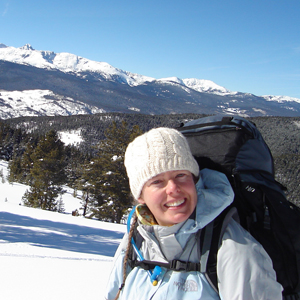 Megan Mueller (she/her)
Senior Conservation Biologist
P.S. – We are currently looking for people to beta test our new Pika Patrol app this winter! Let me know if you're interested in testing out the system by taking photographs and entering data.