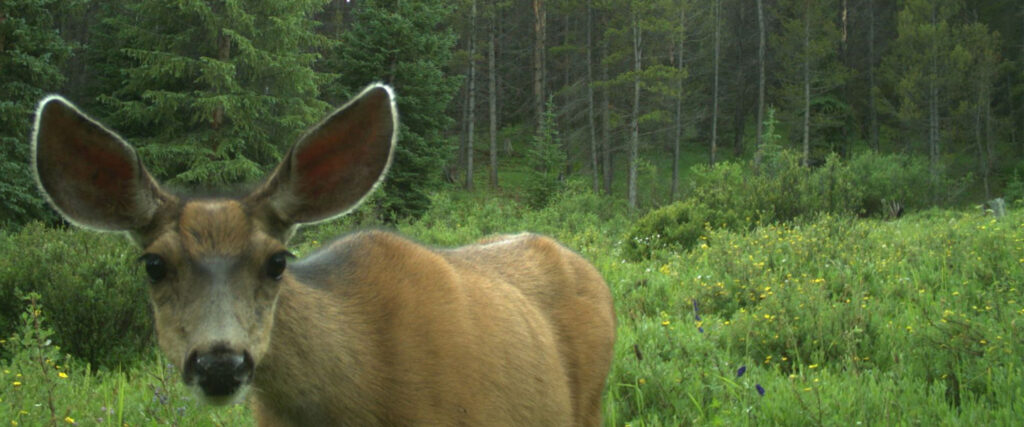 We are almost through our 2022 field season and we're looking for volunteers to help with the last month of wildlife camera moves on East Vail Pass on Monday, September 12 and Tuesday, September 13. The critical need is for support on Monday, September 12. To sign up, visit our Sign-up Genius.
What's involved?
Time commitment: 7:30 am-4:30 pm
Join a small team of Denver Zoo and Rocky Mountain Wild staff and volunteers to help set up and move the wildlife cameras in the forest along I-70 on East Vail Pass. The team drives to Vail Pass and then hikes to camera sites throughout the hilly subalpine forest that sits on the boundary of the Eagles Nest Wilderness and I-70, carrying equipment and setting up wildlife cameras.
Along the way, we'll share and discuss the conservation story of the Colorado Corridors Project and how safe passages for wildlife can help save the lives of both animals and people.
Physical Requirements
Moderate to strenuous.
This project will require moderate off-trail hiking at altitude (around 9,500-10,000 ft) while carrying some equipment (~10 to 20 lbs). While we won't go more than a half-mile from the highway, the terrain can be steep. As there is no bathroom close to the field site, please be prepared to go in the forest.
Weather in the high country can be unpredictable. Please be prepared for hiking in the cold or wet weather.
Suggested Equipment
We recommend bringing hiking boots or waterproof shoes, warm layers, a rain jacket, sunscreen, sunglasses, a hat, water, lunch, and snacks. If you need it, we will work with you to meet your hiking and equipment needs.
Field Experience Opportunities
This outing will provide experience setting up wildlife cameras for ecological research, help you gain familiarity with the field research process and contact with biologists and wildlife experts, and you'll learn more about road ecology and habitat connectivity.
Transportation
If you are coming from the Denver Metro or the Front Range, transportation can be provided from the I-70 Park and Ride near Golden or Denver Zoo (you can choose your meet-up space). If you are coming from Summit or Eagle County or other mountain areas, you will meet us at Wheeler Junction near Copper Mountain.