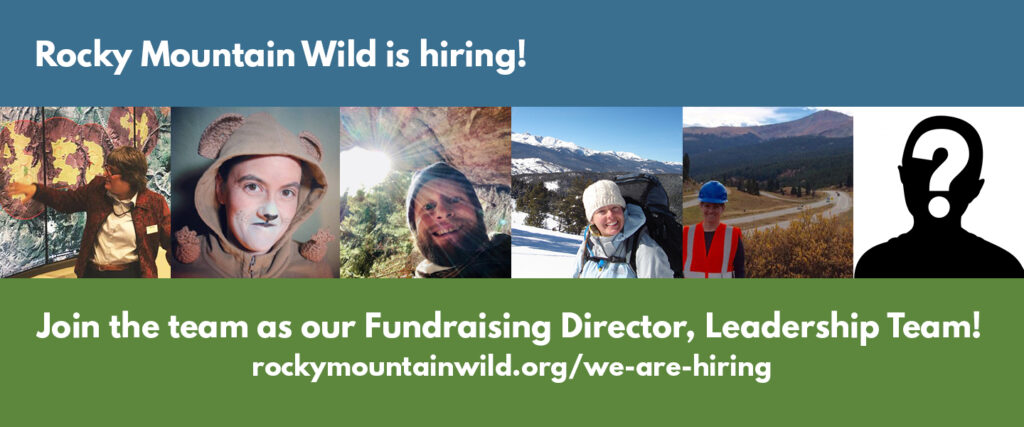 Location: Remote, preferably in Colorado's Front Range
Work Schedule: Exempt, 32 hours per week (full time for RMW employees)
Salary: $50,000
Benefits: Remote workplace with flexible hours; up to six weeks of paid vacation each year; generous paid family, medical and wellness leave; a sabbatical; health insurance; a 401(k) match; and compensation for public transit.
Rocky Mountain Wild (RMW) is seeking a Fundraising Director to develop fundraising strategies for the organization, manage the grants program, coordinate all fundraising efforts by board and staff, and make fundraising requests to donors and funders. In addition, this position will be invited to serve on the newly-formed leadership team and participate in collaborative decision making to help steer the organization.
The Fundraising Director will report to the leadership team (members of the leadership team report to each other) and will serve as the primary fundraising professional for RMW. This role offers a mid-career fundraising professional the opportunity to play a larger decision-making role in a small organization that has recently adopted a shared leadership model. RMW is looking for a curious, organized, collaborative, and results-oriented person who is passionate and innovative about seeing new connections and opportunities to fundraise, who can channel inspiration into action, and who can work effectively with RMW's leadership team to further the mission.
What is the Leadership Team?
Here at Rocky Mountain Wild, we have long known that solving conservation problems involves being in right relationship with the land, species, and communities in our region. As such, our research, community science projects, and legal actions operate from a place of ecological justice—a view that recognizes that 1. everything is interrelated, 2. alone, we don't know everything; together we know a lot, 3. social justice is part of and interconnected with environmental work, and 4. wild lands and wildlife are entitled to what they need to survive and thrive.
Ecological justice must involve a cooperative process that is interconnected and comprehensive in order to be effective. While we understood this to be true when it came to our conservation work, we now understand it is true for our organizational structure as well. To better achieve ecological justice internally, Rocky Mountain Wild has transformed from a hierarchical model to a shared leadership model.
What does this look like? Alison, Chris, Matt, Megan, and Paige will all be members of the newly created leadership team. Together, we will fulfill the executive functions based on our individual strengths. We have engaged in a comprehensive transition process to ensure that all the executive director roles are being covered. Our new fundraising director will fill in the remaining organizational needs. We've spoken to many teams who have different shared leadership models, but they all agreed on one thing: shared leadership is an iterative process that will adapt as we learn what does and doesn't work for us.
What we can say is that Alison, Chris, Matt, Megan, and Paige are discussing our strengths, weaknesses, pain points, and aspirations to transform and restructure our organization to be a more just, equitable, and inclusive workspace. A space where everyone feels empowered to speak to their experience, create abundance for discussion and innovation, and create an organization that embodies rather than includes these principles.
We're looking forward to doing an even better job of protecting Colorado's wildlife and wild lands!