Flowing from the top of the Rockies to the Mississippi River, the Arkansas River is one of America's mighty river systems. Its headwaters, which flow from Leadville, through Salida, to Canon City, make up an ecological wonderland and a recreational hotspot, cutting through rugged canyon country full of hair-raising land features like rock hoodoos and rough crags.

Rocky Mountain Wild works to protect habitat connectivity in this region so that canyon dwelling species like bighorn sheep, elk, and raptors have the space and natural resources that they need to survive.

In 2016, Rocky Mountain Wild partnered with Wild Connections and Citizen Scientists to do a bioblitz of an important wetland area in this region.
See observations made by our citizen scientists during the Arkansas River Corridor Bioblitz.
Eastern Colorado Resource Management Plan Revision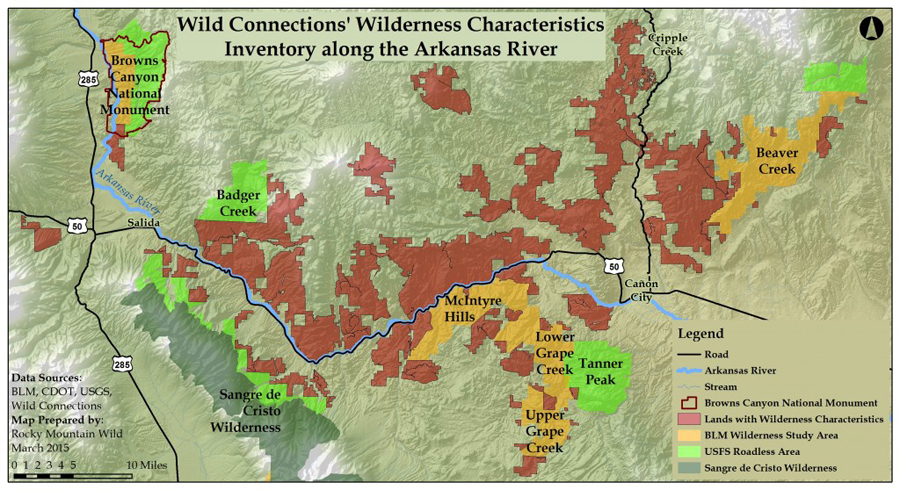 We are currently working with our partner groups The Wilderness Society and Wild Connections to make sure that BLM prioritizes and protects important wildlife habitat and lands with wilderness characteristics in this region (see map). For detailed information on this proposal please visit Wild Connections.

Act Now
BLM is requesting comments on the Draft Environmental Impact Statement and Draft Resource Management Plan for Eastern Colorado. Comments are due by September 30, 2019. You can comment through a link on this BLM website. Learn more about the plan and our concerns on our blog post.