We've got a new direct action you can take to benefit pikas and bison, and both alpine and prairie ecosystems.
Pikas and alpine ecosystems are at-risk from climate change. Bison and other prairie wildlife are losing their habitat. You can help solve both of these problems with one action!
Donate to the Colorado Carbon Offset Partnership. Do your part to combat the climate crisis and secure a future for Colorado's wildlife by donating to offset all of or part of your carbon footprint to protect pikas, bison, prairies, and people from climate change.
How does it work?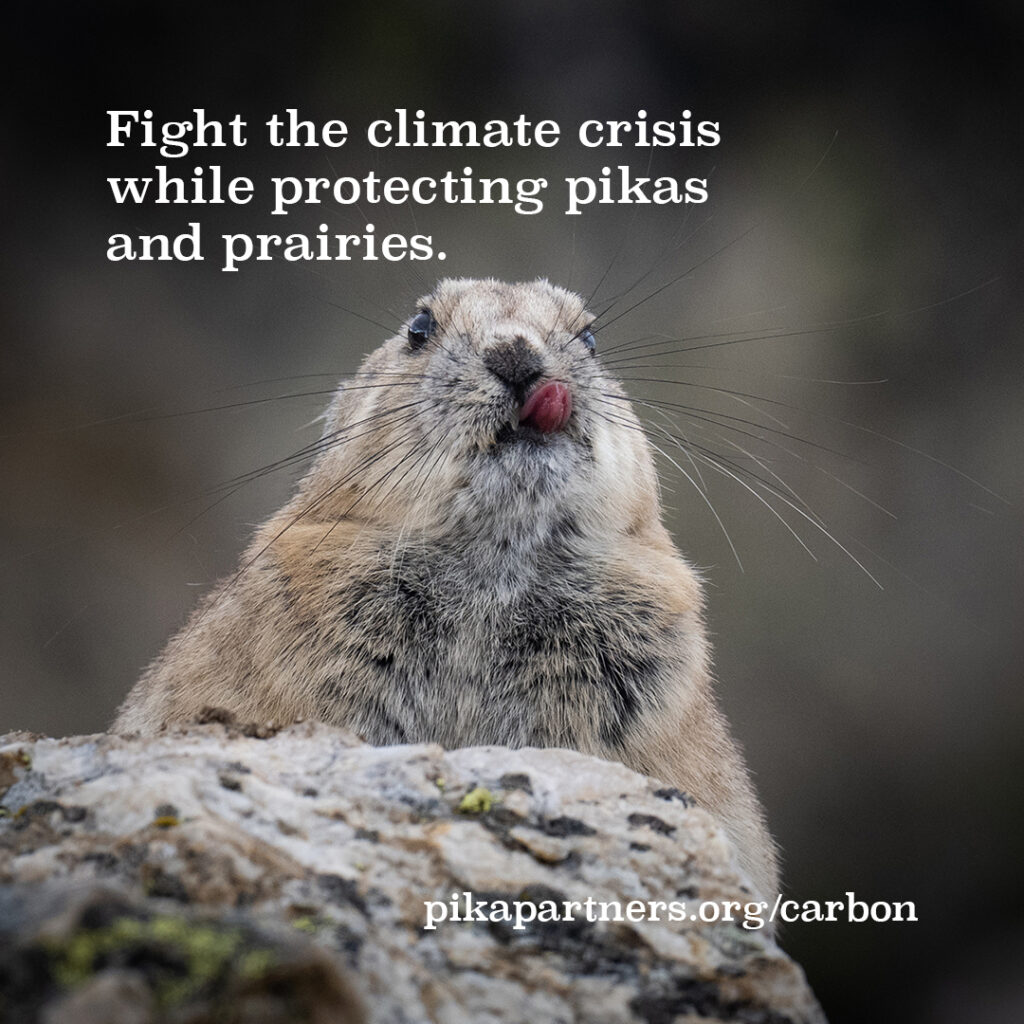 80% of your donation will be used by Southern Plains Land Trust to purchase and protect grasslands in southeastern Colorado that sequester carbon. The grassland preserves are permanently protected as refuges for prairie wildlife, from bison to butterflies!
We can help pikas (and other wildlife and ecosystems) by slowing climate change. One way of doing that is to sequester atmospheric carbon in carbon sinks — like prairies — which are nature's reservoirs for absorbing and storing carbon.
20% of your donation will be used by Rocky Mountain Wild to support the conservation of climate-sensitive species, such as pika.
Climate change is an existential threat for all life on the Earth. Protecting carbon sinks that absorb and store carbon from the atmosphere will help everything from pikas, to prairies, to people. However, it will take some time to reach the point when greenhouse gas levels stop climbing.
In the meantime, we need to help pikas cope with the effects of climate change that we will inevitably face. By addressing other threats, we can make wildlife populations more resilient and better able to cope with climate change.
The average American uses 16.6 metric tons of carbon annually. If you would like to offset an entire year of carbon emissions, you could donate $480.
People with lower incomes have lower carbon footprints. If you'd like to cover 9 metric tons of carbon annually, you could donate $270.
But you are welcome to donate any amount. Together, many donors donating at lower amounts can collectively offset tons of carbon! For every 24 people who donate $20, we are able to collectively offset 16.6 metric tons of carbon and contribute nearly $100 to fund solutions to help wildlife cope with climate change!