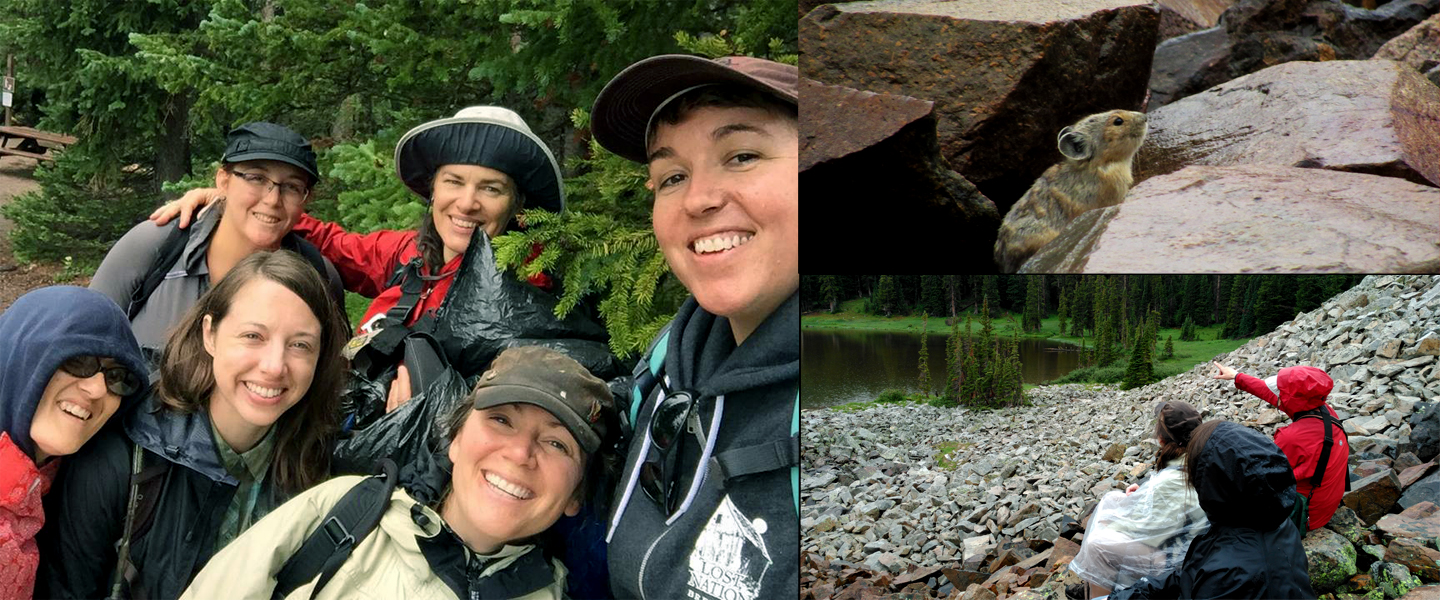 Who We are:
We are women, young and young-at-heart, working together to protect the wildlife and biodiversity of our region. We are activists, artists, scientists, students, and concerned citizens, all working together. And we're mothers, daughters, sisters, aunts, partners, or friends who know that our future, and the future of those we love, depends on our ability to preserve the web-of-life that supports us all.
What We Do:
100 Women for the Wild supports on-the-ground conservation projects led by Rocky Mountain Wild. Our donations, volunteer time, and expertise help Rocky Mountain Wild to protect and restore over 500 rare and imperiled plant and animal species in Colorado, Wyoming, Utah, and New Mexico. Additionally, through our Emerging Female Leader fund and internships, we work to reduce gender bias in our field and provide empowering real-world work experiences for women exploring careers in biology and science.
How It Works:
Each member of the group donates at least $100 each year, with the goal of raising a total of $10,000 for wildlife conservation. Each year if, as a group, we raise more than our $10,000 goal, this extra generosity is set aside into an Emerging Female Leader fund to support one or more internship positions at Rocky Mountain Wild. (You can even schedule your donation for $10 per month for the next 10 months.)

Wednesdays in the Wild
Every fourth Wednesday of the month, the 100 Women for the Wild presents "Wednesdays in the Wild." We have films, hikes, and activism opportunities planned for these Wednesdays. These events are free and open to the public and are a chance to connect with others in the community who care about furthering the mission of supporting women in STEM fields.
Save these Dates:
July 25 – We will be hosting a bat hike with Christine Avena, RMW and 100 Women for the Wild member and bat biologist. Christine studies the White Nose Syndrome disease in bats and is a PhD candidate of CU Boulder. Christine will start the evening with a chat about bat ecology and behavior, followed by a short hike at dusk to watch the bats as they get active! Participants will have the opportunity to go home with their own bat house for a small donation. Location TBD.
August 22, ABCs of Bees – Join us as we head up to Berthoud to learn the ABCs of bees during the honey harvest at Bee Squared Apiaries! This event is hosted by Beth Conrey, who advocates that ecosystem biodiversity and worldwide food production are connected, anchored by a healthy bee population. Beth is a TEDx speaker, Vice President of the Boulder County Beekeepers Association, treasurer of the Pollinator Stewardship Council, and co-founder of People and Pollinators Action Network. Learn how bees make honey, take a peak inside their kingdom, and check out the local honey (there's a whiskey flavor!), soaps, and candles – all Colorado made!
When: Wednesday, August 22, 6:00-7:30 pm.
Where: Bee Squared Apiaries, 1617 White Water Court, Berthoud, CO 80513
Register: This event is free, but please register to save your spot.
September 26, Greenwood Wildlife Rehabilitation Center Tour & Volunteer Day – Have you ever wondered what happens when wildlife is injured? Join us as we take a tour of the Greenwood Wildlife Rehab Center, learn about their mission, and explore the many volunteer opportunities available at Greenwood, from animal care to education to fundraising, and everything in between! While you won't be able to touch or interact directly with the wildlife, you'll be helping the wildlife we co-exist with in Colorado in a big way!
When: Wednesday, September 26, 6:00-8:00 pm
Where: Greenwood Wildlife Rehabilitation Center, 5761 Ute Hwy, Longmont, CO 80503
Register: This event is free, but please register to save your spot.
And, the fun part…
We get together once a year over snacks and drinks to talk about how our donations were applied, and to help direct where it might go in the future. We learn about issues, listen to each other, and provide encouragement and expertise. Of course, you don't need to be local to join in. We provide lots of information to our group through email, social media, and the occasional phone call.

Join these Trailblazers*:
Christine Avena, Jennifer Barrow, Maureen Beacom, Sabrina Biery, Missy Bonaker, Christy Carello, Jana Cytrynbaum, Susan Dellinger, Diana Dodge, Tweedie Doe, Jeannie Dunham, Polly Ehrenhaft, Linda Espinosa, Alison Gallensky, Erica Garroutte, Emily Grant, Bailey Hamler, Tracy Hansen, Clarisa Hernandez, Patricia Hinnen, Hollis Hope, Barbekka Hurtt, Shannon Jacobs, Melissa Johnsen, Nicky Johnson, Christine Julich, Maggie Kates, Nora Kelly, Meredith Kersten, Laura Kottlowski, Jody Krieg, Andrea Lauritzen, Katrina Loewy, Kathy Ludwig, Amy Masching, Andrea McMahon, Caitlin Mercier, Lynne Montague-Clouse, Megan Mueller, Carrie Noonan, Rebecca Otey, Tehri Parker, Angelia Prather, Erica Prather, Pam Proto, Andrea Ray, Chris Ray, Melissa Reed-Eckert, Cathy Regan, Emmy "Super Monkey Girl" Shininger, Juli Slivka, Terri Slivka, Jean Smith, Emily Speck, Erin Stotz, Julia Sullivan, Barbara Talbot, Chris Talbot-Heindl, Anita Taylor, Gabby Vermeire, Lisa Warren, Andrea West
* "a person who marks or prepares a trail through a forest or field for other people to follow."