Wolf Creek Pass needs your help to remain the beautiful area that you and thousands of others know and love. Out-of-state developers continue to pursue plans for a "Village" at Wolf Creek, a city of up to 8,000 people on top of the Pass.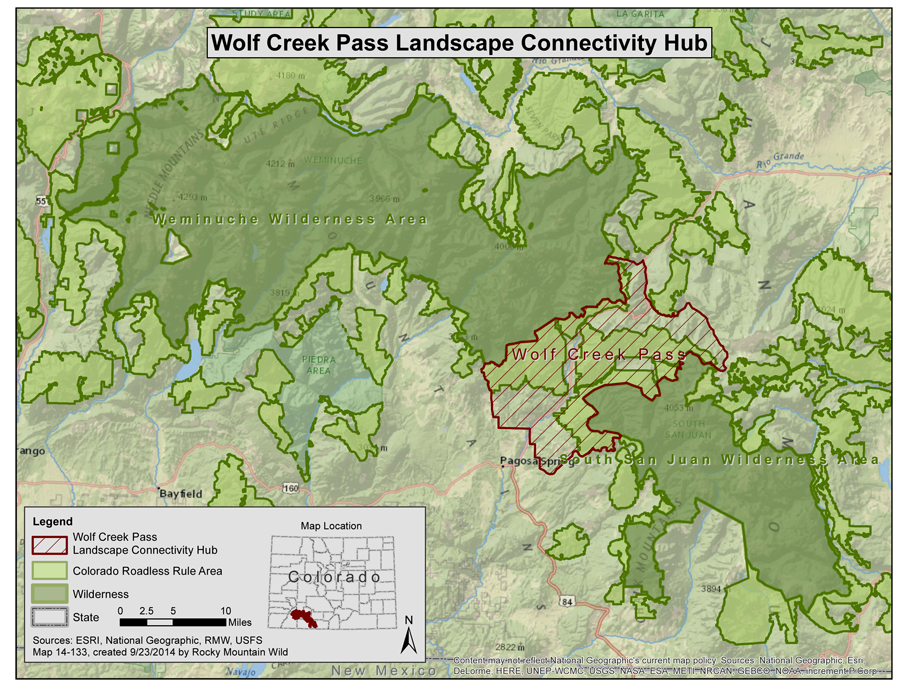 This intense development plan in a fairly pristine area entirely surrounded by National forest would dramatically impact the entire region. The "Village" would threaten:
One of the most critical wildlife corridors in the southern Rocky Mountains, especially important for high-elevation species like wolverine and lynx;
Unspoiled backcountry opportunities along the Continental Divide;
Water supply and water quality for downstream communities;
Local businesses in nearby Archuleta and Rio Grande Counties;
Rare and ecologically valuable fen wetlands.
Current Status
In March 2016, we filed a motion in the U.S. District Court to have records in the possession of the contractors that the Forest Service hired to prepare the environmental analysis of the land exchange disclosed and potentially added to the Administrative Record. While these records legally belong to the Forest Service, they have refused to ask the contractors to supply all of them. The attorneys for the Forest Service and the Leavell-McCombs Joint Venture responded to the Court arguing that the Administrative Record was complete without these additional records. In the first week of May, we filed a 23-page Reply brief, and now we are awaiting the Court's decision. Full copies of our Brief, the defendant's Responses, and our Reply brief can be found here:
In January 2016, a federal judge ruled that the Forest Service needed to do a more thorough search of the records in response to Rocky Mountain Wild's Freedom of Information Act lawsuit, including high-level employees' records and previously withheld documents. For the complete story, check out the article by The Durango Herald.
For an in-depth, chronological history of this case, visit the Friends of Wolf Creek Background page.
The Friends of Wolf Creek coalition is petitioning U.S. Forest Service Chief Tom Tidwell, requesting that he immediately stop the land exchange and start an independent review of the decision making process. Click here to sign the petition.
Follow the Friends of Wolf Creek Facebook page, or sign up to receive emails (by choosing "Friends of Wolf Creek News") for current updates.
Administrative Record
The Administrative Record is the paper trail that documents an agency's decision-making process and the basis for the agency's decision. Here is a link to the administrative record provided by the Forest Service on their decision to approve the land exchange with Red McCombs.
Donate to the Cause
Court battles like these aren't cheap. If you'd like to support our battle to keep Wolf Creek Pass wild, please donate on our GivingFuel page. Select "Friends of Wolf Creek" under "Direct My Donation."