By: Erica Prather, Campaign Assistant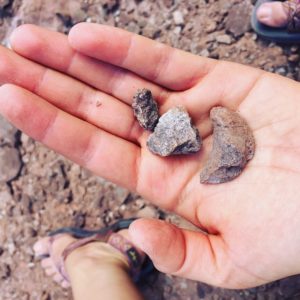 During the last weekend of August, Rocky Mountain Wild sent me to volunteer with scientist Robert Gay, performing paleontological surveys in Bears Ears National Monument.  There were 3 other volunteers, and they all happened to be paleontologists who wanted additional field experience.  This meant I was the only person who had never found a fossil in my life, and I had zero idea of what to expect or what to look for. Surprisingly, I found 6 pieces that were chunks of ancient reptiles – 240 million years old! – some were vertebrae, some were scaly shield bits. I also found a "burrow," which is basically an encasement where some prehistoric animal was digging around in shallow, liquidy mud near a lake or river.
We worked two different "outcrops" – a word that paleontologists use to describe a protruding bit of land that is very exposed and therefore easy to survey – and we did all this in the blazing August heat exclusively tortuous to southern Utah. I am a desert rat at heart, but this excursion was trying for me! It was in the 90s, and there was no shade or coverage, save for a juniper or bulging boulder here or there.
I was particularly interested in doing a survey/excursion/dig because I am generally a nosy person who likes to bombard new, unsuspecting people with questions, and I was very interested in chatting with Rob Gay, as he was one of the scientists who really pushed hard for the monument designation of Bears Ears, having been flown to DC several times before Obama exited office to plead the case for monument status for paleontological reasons.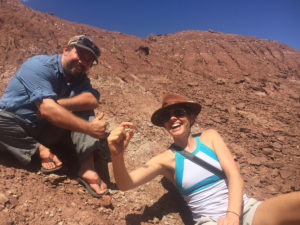 Rob was concerned that paleontological resources were not being considered when the monument boundaries were being defined, and he made many recommendations regarding which boundaries would be necessary for excavations to take place. Without monument designation, or with a shrunken designated area, "That reduces the ability of law enforcement to cover these areas, the funding to study and research these areas," said Gay. "A lot of the fossils that are out here – we know they are here, but we don't know a lot about them. We're finding world-class fossils that are not found anywhere else. By removing protection of these fossils, we may not be able to tell the full story, and they could be looted and lost."
At one particular excavation site, where an entire dinosaur is actually preserved in one piece, the site is divided by an invisible line. One side of the line is technically not in the monument, while the other side is, and the fossil structures run on both sides. This was a fascinating nuance that we often explore with regard to how we designate federal lands. And as Rob pointed out – "if you interpret the Antiquities Act to be minimally inclusive of all resources, you could actually argue that the monument is too small in many places." We often think about recreational or conservation opportunities within a federally protected land, but scientific research that helps us understand our past – how species evolved, how our planet evolved, how species rebounded after mass extinctions – is incredibly valuable.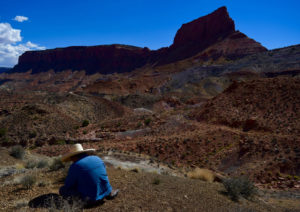 I had lots of questions about how paleontologists work with NGOs with regard to conservation of land for their work. It is in angle I had never considered – commenting on oil and gas leases in the name of defending something of scientific value, such as paleontology. Those that go into the field of paleontology are science minded, dedicated, incredibly smart, and would make strong allies with regard to federally protected land – both creating it and defending it. They all mentioned many cases where oil and gas leases were in direct conflict with their research. This should come as no surprise! Fossil fuels are often found near – you guessed it – fossils.
Spending time in fireside conversation with these paleontologists after a hard day's work was incredibly enjoyable. They all had so much knowledge and excitement for the subject they love most – dinosaurs, ancient reptiles, looking at the land like a layered cake where 20 paces can span 20 million years. Bears Ears has more archaeological sites than any other National Monument in the United States, and was an unprecedented push by an inter-tribal coalition for tribal sovereignty. Protecting this area from development, and preserving it in the name of sacred sites, paleontological research, and a host of other well-defined reasons in the proclamation signed by Obama, is an exciting prospect that now needs defending. At the moment, the specifics about what areas should be shrunk, and by how much, remains yet to be seen. Patagonia is still sending letters and messages to Zinke, and is prepared to sue the administration over these unprecedented actions, while Earth Justice is keeping folks abreast as issues come to light.
While this may be new territory in the defense of public lands, it is an exciting time to come together, find common ground, share our love of these places, learn even more reasons they have value for specific fields or to certain groups, and act together.