Rocky Mountain Wild will host the fourth Colorado Endangered Species Week, May 10-16, 2020, with the national Endangered Species Day occurring on May 15 and Colorado Public Lands Day occurring on May 16. This week is dedicated to the mission of educating the public and working towards the protection of the over 300 plant and animal species that are at risk in Colorado, including our state animal, the bighorn sheep.
During this week, Rocky Mountain Wild and our partners will be organizing speakers, fundraisers, and other activities along the Front Range, with major events occurring in Boulder and Denver.
Governor Polis declared the week as Colorado Endangered Species Week last year, and we hope that he will do so again this year.
Not in the area? Find an Endangered Species Week event near you.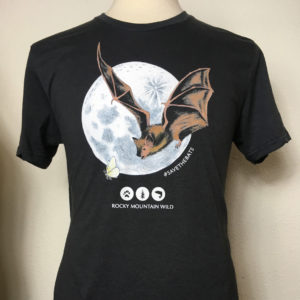 Support the Week by Purchasing Last Year's Amazing Tee!
Last year for Colorado Endangered Species Week, our artist sponsor Julie Kitzes designed this stunning tee shirt featuring a brown bat, the sale of which will help fund Colorado Endangered Species Week!
Visit her website or Instagram page to get a feel for her work.
Schedule of Events (tentative):
If you would like to suggest an event or partner with us to put one on, contact Chris. Events must have tie-ins to endangered, threatened, or otherwise imperiled species.
Please be patient as we work to modify our offerings for the week to be completely online.
Sponsors:
Please take a look at our Colorado Endangered Species Week Sponsorship Packet and contact Chris if you are interested in joining us.
For the Kids (& Kids at Heart):
Feel free to download any of our coloring pages! And if you love how it turned out, please send it to us and we'll post it on our Instagram page!