Rocky Mountain Wild will host the third Colorado Endangered Species Week, May 12-18, 2019, with the national Endangered Species Day occurring on May 17 and Colorado Public Lands Day occurring on May 18. During this week, Rocky Mountain Wild and our partners will be organizing speakers, fundraisers, and other activities along the Front Range, with major events occurring in Boulder and Denver.
Governor Polis has officially declared the week as Colorado Endangered Species Week!
Not in the area? Find an Endangered Species Week event near you.
Artist Sponsor
We are excited to announce that this year, there will be a Colorado Endangered Species Week art piece from our artist sponsor, Julie Kitzes! Julie designed a tee shirt featuring a brown bat, the sales of which will help fund Colorado Endangered Species Week!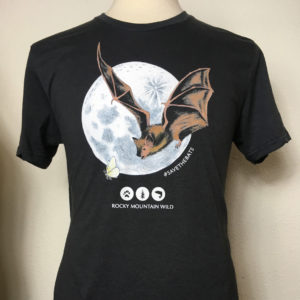 Julie aims to inspire and educate others about the captivating world around us: whether adorable kittens or the anatomy of a parasite that might live within the kittens. She utilizes vibrant colors and a blend of realism and stylization to capture a detailed and accurate depiction of a subject while utilizing creative license and artistic sensibility.
When she's not creating art, Julie enjoys exploring the landscapes of Colorado with her husband Peter; collecting flowers, gems, feathers, bones, and remnants for her curio of scientific reference and inspiration. She actively volunteers for the Denver Museum of Nature and Science in their zoology laboratory where she dissects and preserves specimens for environmental research studies and the museum's collections.
We are so happy to have Julie as our artist sponsor for the week! Visit her website or Instagram page to get a feel for her work.
Schedule of Events (so far):
The entire Colorado Endangered Species Week is also Vegan Restaurant Week in Denver! It's a week-long celebration of plant-based and vegan dining at participating restaurants and food trucks in the Denver Metro area. Whether you go meatless on Monday, or all week, visit the Veg Fest Colorado website for all the participating eateries to check out!
Why are we promoting Meatless Monday for Colorado Endangered Species Week? According to a report from the Food and Agriculture Organization of the United Nations, the livestock industry is one of the largest contributors to environmental degradation, contributing to a loss of biodiversity.
When: All Day (and through May 19 if you like)
Where: Various eateries throughout the Denver Metro area
Facebook Event Page: https://www.facebook.com/events/2065467580419904/
Sponsors: VegFest Colorado and The Veganizers Den
There are tons of things you can do today to protect endangered and imperiled species and their habitats. Just a few of these include: learning more about our region's species, signing petitions, making public comments, talking to your member of Congress about protecting endangered species, signing up to become a citizen science, or creating a homemade zine to show others about imperiled or endangered species in Colorado and donate it to the Denver Zine Library's archives for others to read.
Check out this link to find out how. We've also teamed up with The Alliance Center to host these actions in person! Take all the actions with the assistance of Rocky Mountain Wild staff!
When: Tuesday, May 14, 3:00 – 5:00 pm
Where: The Alliance Center, Centennial Room, 1536 Wynkoop St, Denver, CO 80202
Sponsors: The Alliance Center, The Talbot-Heindl Experience
Rocky Mountain Wild's Conservation Biologist, Paige Singer, will lead us on a bat hike. Paige will start the evening with a chat about bat ecology and behavior, followed by a short hike at dusk to watch the bats as they get active! The trailhead is located close to street parking – since it's a school night, you may come and go as you please. Participants have the opportunity to go home with their own bat house for a small donation while supplies last!

Time: 7:30 pm – 9:00 pm
Location: Shanahan Ridge Trail, Boulder, CO
Registration: Tickets are free for 100 Women for the Wild members and $10 for non-members. Register to save your spot.
Join us for a special Paint and Sip event at Patagonia Denver to raise awareness for Endangered Species Day. Local artist Valerie Rose will guide us through a drawing and painting tutorial of an endangered species near and dear to us all.
The Endangered Species Coalition will also be in the house to share how we can help animals in need. We will have wine, beer, kombucha and light refreshments.
Time: 7:00 – 9:00 pm
Location: Patagonia Denver, 1431 15th St, Denver, CO 80202
Facebook Event Page: https://www.facebook.com/events/435144847251292/
Sponsors: Endangered Species Coalition and Patagonia Denver
Join us for an evening of music and beer at Woods Boss Brewing Company. $1 from each pint of sold will benefit our work to monitor the impacts of climate change on the American Pika. Enter our raffle to win an adorable stuffed pika, or Adopt-A-Pika on the spot to take home with you. Music will be provided by Rusty 44.

Time: 6:00 – 9:00 pm
Location: Woods Boss Brewing Company, 2210 California Street, Denver 80205
Facebook Event Page: https://www.facebook.com/events/2285273415038919/
Sponsor: Woods Boss Brewing Company
Join us at The Co-op on 1st for the Zabiti Traveling Circus Wagon in the Barnum community! Presented by aerialist group, Rainbow Militia, The Traveling Circus features stilt acrobats, aerial dancers, juggling, and a plot that centers around a Cursed Forest. Within the Cursed Forest reside characters that are built around various threatened and endangered Colorado species – including the gray wolf, Canada lynx, boreal toad, and more.
Time: 2:30 – 6:30 pm
Location: The Co-op on 1st, 5045 West 1st Ave, Denver, CO 80219
Facebook event page: https://www.facebook.com/events/796632257370499/

Saturday, May 18 & Sunday, May 19
Colfax Marathon
Are you ready to #RunWild? Lace up your running shoes and join us in the Colfax Marathon as we raise awareness and funds for Rocky Mountain Wild! This year, our goal is to raise $2,000 to support paid summer internships for our 100 Women for the Wild program. These internships provide emerging female leaders in the STEM fields with valuable experience in field biology, GIS, volunteer management, and communication. Together, we can keep breaking down gender barriers in the sciences. For more information or to register, visit Colfax Marathon. When you register, make sure to pick Rocky Mountain Wild as your Charity Partner! We will send you a welcome email with directions on how to fundraise for us. We promise to make it easy.
If you would like to suggest an event or partner with us to put one on, contact Chris. Events must have tie-ins to endangered, threatened, or otherwise imperiled species.
Sponsors:
Greenwood Wildlife Rehabilitation Center
Jim Morris Environmental & Wildlife T-Shirt Co.
People & Pollinators Action Network
The Talbot-Heindl Experience
Please take a look at our Colorado Endangered Species Week Sponsorship Packet and contact Chris if you are interested in joining us.
For the Kids (& Kids at Heart):
Suggested Film List:
Suggested Reading List:
Badluck Way: A Year on the Ragged Edge of the West, Bryce Andrews. In this gripping memoir of a young man, a wolf, their parallel lives and ultimate collision, Bryce Andrews describes life on the remote, windswept Sun Ranch in southwest Montana. Amazing descriptions of the beauty of wolves and an unflinching look at the hardship of raising cattle in the presence of predators.
Countdown: Our Last, Best Hope for a Future on Earth, Alan Weisman. For this long awaited follow-up book, Weisman traveled to more than 20 countries to ask what experts agreed were probably the most important questions on Earth – and also the hardest: How many humans can the planet hold without capsizing?
Dodging Extinction: Power, Food, Money, and the Future of Life on Earth, Anthony Barnofsky. Paleobiologist Barnofsky weaves together evidence from the deep past and the present to alert us to the looming Sixth Mass Extinction and to offer a practical, hopeful plan for avoiding it.
Drawdown: The Most Comprehensive Plan Ever Proposed to Reverse Global Warming, Paul Hawken. Our organization did not make or devise the plan—we found the plan because it already exists. We gathered a qualified and diverse group of researchers from around the world to identify, research, and model the 100 most substantive, existing solutions to address climate change. What was uncovered is a path forward that can roll back global warming within thirty years. It shows that humanity has the means at hand. Nothing new needs to be invented. The solutions are in place and in action.
Finding Beauty in a Broken World, Terry Tempest Williams. In her compassionate meditation on how nature and humans both collide and connect, Williams affirms a reverence for all life, and constructs a narrative of hopeful acts, taking that which is broken and creating something whole. Includes pages and pages of observations of Utah prairie dogs on the brink of extinction.
Half-Earth: Our Planet's Fight for Life, E.O. Wilson. In order to stave off the mass extinction of species, including our own, we must move swiftly to preserve the biodiversity of our planet, says Wilson in his most impassioned book to date. Half-Earth argues that the situation facing us is too large to be solved piecemeal and proposes a solution commensurate with the magnitude of the problem: dedicate fully half the surface of the Earth to nature.
Last Chance to See, Douglas Adams and Mark Carwardine. Join bestselling author Douglas Adams and zooligist Mark Carwardine as they take off around the world in search of exotic endangered creatures. Hilarious and poignant – as only Douglas Adams can be – Last Chance to See is an entertaining and arresting odyssey through the Earth's magnificent wildlife galaxy.
Listed: Dispatches from America's Endangered Species Act, Joe Roman. The first listed species to make headlines after the Endangered Species Act was passed in 1973 was the snail darter, a three-inch fish that stood in the way of a massive dam on the Little Tennessee River. When the Supreme Court sided with the darter, Congress changed the rules. The dam was built, the river stopped flowing, and the snail darter went extinct on the Little Tennessee, though it survived in other waterways. A young Al Gore voted for the dam; freshman congressman Newt Gingrich voted for the fish.
Man Swarm, Dave Foreman. Overpopulation is real. Now at over seven billion and counting, renowned visionary conservationist and global thinker, Dave Foreman, helps us understand that only by stabilizing and reducing human population can we stop wrecking our home – Earth.
Open Season (A Joe Pickett Novel), C. J. Box. A murder mystery where the murder is investigated by a game warden in rural Wyoming and an endangered species plays a starring role.
Rare: Portraits on America's Endangered Species, Joel Sartore. When a few of these photographs first appeared in the National Geographic magazine January 2009 issue, they were hailed as an arresting reminder of the hundreds of species teetering on the brink of final extinction—more than 1,200 animals and plants in all. Now, in Rare, Joel Sartore and National Geographic present 80 iconic images, representing a lifelong commitment to the natural world and a three-year investigation into the Endangered Species Act and the creatures it exists to protect.
Rewilding the World: Dispatches from the Conservation Revolution, Caroline Fraser. If environmental destruction continues at its current rate, a third of all plants and animals could disappear by 2050-along with earth's life-support ecosystems, which provide food, water, medicine, and natural defenses against climate change. Now Caroline Fraser offers the first definitive account of a visionary crusade to confront this crisis: rewilding. Breathtaking in scope and ambition, rewilding aims to save species by restoring habitats, reviving migration corridors, and brokering peace between people and predators.
The Annihilation of Nature: Human Extinction of Birds and Mammals, Gerardo Ceballos, Anne Ehrlich, and Paul Ehrlich. Nature is being annihilated, not only because of the human population explosion, but also as a result of massive commercial endeavors and public apathy. Despite the well-intentioned work of conservation organizations and governments, the authors warn us that not enough is being done and time is short for the most vulnerable of the world's wild birds and mammals.
The Future of Life, E.O. Wilson. In this, his most personal and timely book to date, he assesses the precarious state of our environment, examining the mass extinctions occurring in our time and the natural treasures we are about to lose forever. Yet, rather than eschewing doomsday prophesies, he spells out a specific plan to save our world while there is still time. His vision is a hopeful one, as economically sound as it is environmentally necessary. Eloquent, practical and wise, this book should be read and studied by anyone concerned with the fate of the natural world.
The Once and Future World: Nature As It Was, As It Is, As It Could Be, J.B. MacKinnon. In three beautifully drawn parts, MacKinnon revisits a globe exuberant with life, where lions roam North American and 20 times more whales swim in the sea. He traces how humans destroyed that reality, out of rapaciousness, yes, but also through a great forgetting.
The Sixth Extinction: An Unnatural History, Elizabeth Kolbert. Scientists around the world are currently monitoring the sixth extinction, predicted to be the most devastating extinction event since the asteroid impact that wiped out the dinosaurs. The time around, the cataclysm is us.
Where the Wild Things Were: Life, Death, and Ecological Wreckage in a Land of Vanishing Predators, William Stolzenburg. For years, predators like snow leopards and white-tipped sharks have been disappearing from the top of the food chain, largely as a result of human action. Science journalist Will Stolzenburg reveals why and how their absence upsets the delicate balance of the world's environment.
Witness: Endangered Species of North America, David Piittschwager and Susan Middleton. Startlingly beautiful in its content and powerfully eloquent in its message, Witness captures 100 species of North American animals and plants on the brink of extinction in a series of stunning color and duotone portraits.