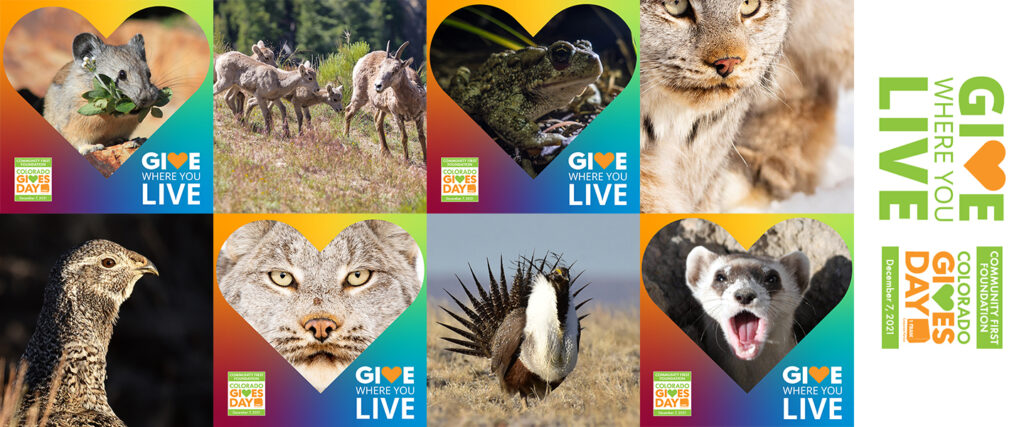 Schedule your donation for Colorado Gives Day!
There's no denying it, when it comes to friends we've got the best (and that includes you)! Thanks to our friends, Rocky Mountain Wild has weathered these last two years, and come out ready to keep fighting for what matters to us all: clean air, clean water, healthy wildlife populations, and a world where we cherish and respect each other and our natural resources. So, this year, as we start our fundraising season with a goal of raising $80,000 we want to introduce you to some of the friends that make our work possible.
Colorado Pika Project – The Colorado Pika Project (formerly Front Range Pika Project), is a partnership between Rocky Mountain Wild and Denver Zoo (with the help of many others). Our partners at the Zoo help us to manage the project, train volunteers, scope pika monitoring sites, and so much more. This year we had so many great accomplishments including a record number of volunteer community scientists in the field collecting data (over 400 who contributed 1640 hours conducting 205 pika surveys so far; we're still receiving data), an incredible write up in National Geographic (thank you Kristi Odom for the amazing photos and Amanda Mascarelli for the story), and an estimated saving of 2.4 tons of CO2 emissions from travel by moving all of our new volunteer training to an online format. 
Colorado Corridors Project — The Colorado Corridors Project monitors wildlife on East Vail Pass with the goal of restoring habitat connectivity in the area by building a series of wildlife crossing structures across I-70. We partner with Denver Zoo on this project as well, but we also want to shout out to our partners at the White River National Forest, Colorado Parks and Wildlife, Colorado Department of Transportation, and Copper Mountain, among others, for support of this project. Thanks to them, we were able to expand our monitoring of the site this year, collect more than 150,000 photos of wildlife near the road (including our first photo of bighorn sheep), and begin positioning the project for future funding.
Friends of Wolf Creek — For over 30 years, the organizations in the Friends of Wolf Creek coalition have been fighting to protect the wildlife movement corridor at the top of Wolf Creek Pass from adverse development. In addition to Rocky Mountain Wild, our partners in this endeavor include the San Louis Valley Ecosystem Council, San Juan Citizens Alliance, and Wilderness Workshop. Together we are engaging in a legal battle to stop out-of-state developers from building a "village" — a "Little Vail" in this unspoiled forest. This year while we waited for the courts to rule on our current lawsuit, we celebrated another year with no bulldozers on the pass.
Oil and Gas Accountability in Colorado — Rocky Mountain Wild frequently partners with other groups to create maps and do analyses that show how various development proposals will impact Colorado's wildlife, wildlands, and human populations. This year one of our biggest projects involved mapping and analyzing all of the low producing and abandoned oil wells in Colorado – a problem that may cost our state more than $8 billion to clean up. You can check out the story map for the project at the website wellwellwellcolorado.com. A big thanks to our partners in this project: Colorado Sierra Club, Conservation Colorado, Earthworks, League of Oil and Gas Impacted Coloradans (LOGIC), Western Colorado Alliance, and the Western Slope Conservation Center
YOU! — When it comes to friends, you're one of our besties! Your contributions and support over the last year have kept our biologists in the field, our attorney in the virtual courtroom, our GIS team making maps and telling stories, and our communications manager at the helm of our social media and outreach events. The impact has been felt across the region, with additional acres being deferred from oil and gas leasing, new rules put in place to better balance oil and gas development with wildlife, new wildlife crossings springing up on our roads, and so much more! Thank you!
Let's keep this momentum going! Please consider a donation to Rocky Mountain Wild to help us meet our fundraising goal of $80,000. Your contribution is tax-deductible and will be used to protect the wildlife and wildlands in our region. Every contribution, no matter the size, is important and valued. Schedule your donation for Colorado Gives Day and it will be boosted by the $1 Million+ incentive fund!
Can't afford to help out this year? We understand. Please consider signing up to volunteer for one of our community science projects or becoming one of our social media ambassadors, contact Chris at chris@rockymountainwild.org for details.
Help us fundraise with your own campaign!
This year, we're trying something new — we're trying peer-to-peer fundraising!
Fun Fact: 41.5% of donors cite that word of mouth was their main method of finding new nonprofits to support! So, if you would like to help us reach our fundraising goals, please use our fundraiser's kit.