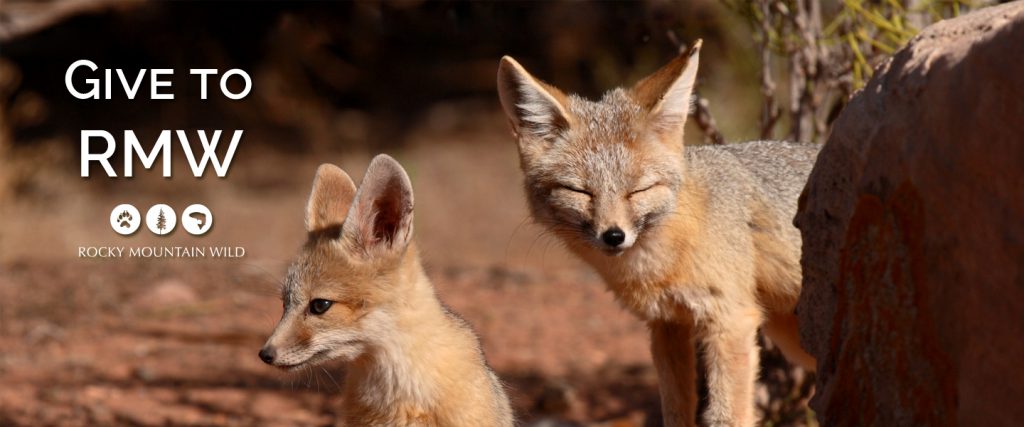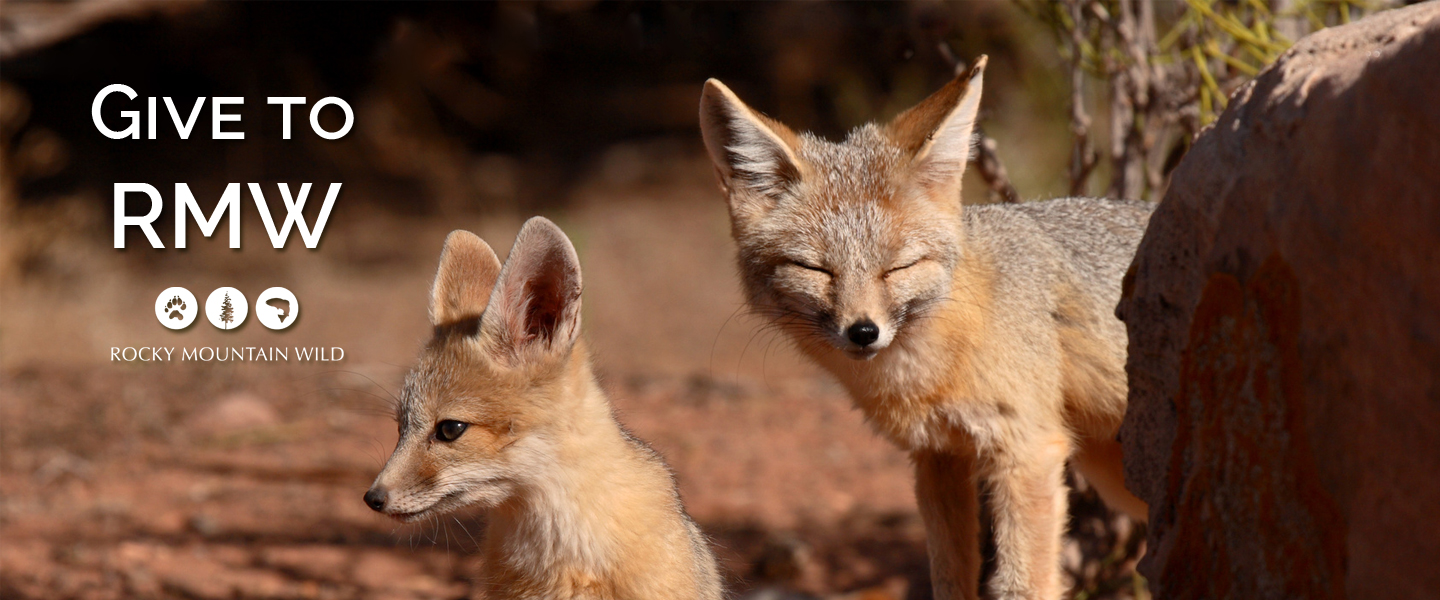 On behalf of the thousands of plant and animal species that call the Rocky Mountains their home, we would like to thank you for wanting to donate to Rocky Mountain Wild. Our region is home to a diversity of species that are at risk due to the effects of urbanization, fragmentation, and climate change. Your generosity ensures that we can hit the ground running, continuing to protect these habitat for our furry, feathery, and scaly friends moving forward!
There are many different ways to give to Rocky Mountain Wild:
Donation through GivingFuel, our secure online credit card processor. With this method, you can also select what program you want your donation to benefit or select it to be an unrestricted donation. Visit our GivingFuel site to make a donation.
Join the Super Species Squad. Monthly donations are our most stable source of funding, as well as an easy and affordable way to support our work! You determine the amount of your monthly donation and your credit card is charged automatically on the same date each  month. Visit our GivingFuel site to join the Super Species Squad.
Adopt a Pika. Your adoption of an American pika will help ensure that the 'Eeep!' of the pika will continue to ring out across our Colorado mountains. As you probably know, the Front Range Pika Project is our citizen science initiative that engages the public in field research on the effects of climate change on American pika. Our citizen scientists have conducted seven years of field research in the Front Range already! And this year, we're looking to expand that research to cover not just the Front Range, but all of Colorado! Adoptions only cost $35. Your adoption of an American pika will help us fund that expansion. Visit our GivingFuel site to adopt a pika.
Workplace Giving through Community Shares of Colorado enables your to make charitable donations via paycheck contributions. A paycheck contribution of $1 a day adds up to a $260 annual donation. Visit our Workplace Giving page for more information and how to sign up.
Volunteer your time to Rocky Mountain Wild. We are always looking for help with research projects, data entry, field surveys, online ambassadorship, and at events. Please fill out our Volunteer application form.
Shop at our RedBubble Store. Select Rocky Mountain Wild designs can be purchased on gear such as tees, onesies, totes, and mugs. Visit our RedBubble Store to make a purchase to support Rocky Mountain Wild.
Set up Rocky Mountain Wild as a recipient in planned giving. Remembering Rocky Mountain Wild in your financial planning will ensure that you leave an important conservation legacy and can help you reduce or eliminate taxes. Visit our planned giving page for more details.
1% for the Planet is a global network of businesses that donate one percent of annual sales directly to approved environmental and sustainability nonprofit organization. Rocky Mountain Wild is one of these nonprofit partners. Visit our 1% for the Planet for more information.
Give an In-Kind Donation. Help us cut down on our overhead costs by donating goods and services. We are in need of things like printing and design services, office supplies, wildlife cameras, and safety equipment. Please email us if you would like to give an in-kind donation.
Give the gift of stock. Make a gift of stock or real estate. You receive a tax deduction for the fair market value, avoid capital gains taxes, and we can sell your donated assets without incurring tax penalties. Please email us if you would like to give the gift of stock.
See if your company offers a matching gift program. You  might be able to double your gift by having your company match it!
Donate your car. You can turn your old clunker into support for our vital conservation programs. Get that unneeded vehicle off your hands and convert it into tangible conservation gains for imperiled species in the Southern Rockies. Please visit Vehicles for Charity for more information.
Help us reach out to the community. Do you know someone who might be interested in joining our network? Forward your e-newsletter or action alerts to those in your circle who might benefit form the information.
Shop Tobi Cares and support Rocky Mountain Wild. You can help support Rocky Mountain Wild by shopping with Tobi. Tobi will donate 1% of your eligible purchases to RMW at no additional cost to you. First time customers get 50% off their first order too! Start shopping and raising money for RMW today!
Shop Amazon smile and support Rocky Mountain Wild. Amazon donates 0.5% of the price of your eligible AmazonSmile purchases to the charitable organization of your choice. AmazonSmile is the same Amazon you know. Same products, same prices, same Amazon Prime benefits. Support Rocky Mountain Wild by starting your shopping at smile.amazon.com. Choose us and 0.5% of all future eligible purchases will automatically come to us!