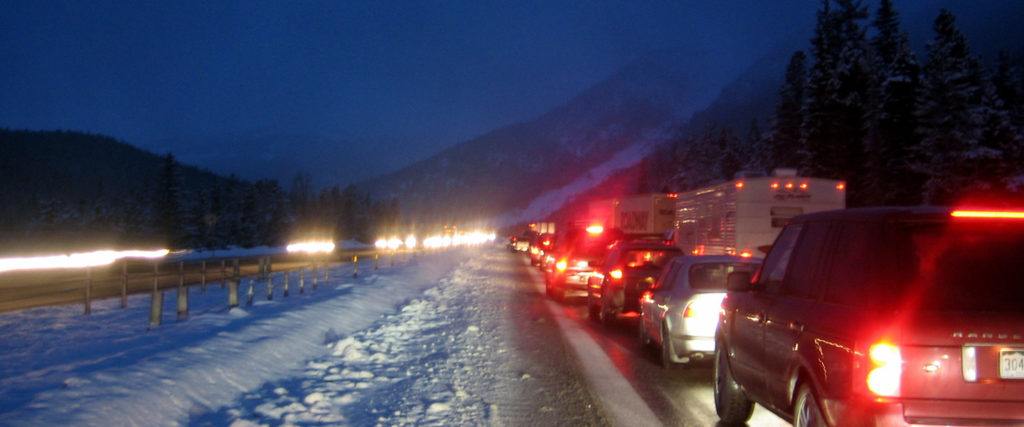 By: Sofia Corley, Rocky Mountain Wild
At this time of year, as the ski areas open, the number of people heading into the mountains surges, and requires the masses to brave the dreaded congestion on I-70. The traffic on this mountain corridor gets worse every year, with 13.4 million travelers using this highway to cross the Continental Divide in 2018 alone (CPR, 2019). Due to this historically congested route, more skiers and snowboarders are skipping the trip all together. A 2019 I-70 Coalition User Study Report showed that 67% of respondents say that they have reduced their skiing and snowboarding activities due to the consistent traffic on I-70.
However, those that do brave I-70 have a unique opportunity to learn about the environments that they are traveling through with The Wild I-70 Audio Tour, brought to you by Rocky Mountain Wild. "Last year, we saw the opportunity to help motorists pass the time and learn about the environments outside of their window," states Tehri Parker, Executive Director of Rocky Mountain Wild. "This one of a kind tour is a collaboration from biologists, musicians, and other Colorado artists to elevate our understanding of the importance of habitat connectivity."
Starting in Golden and concluding in Glenwood Springs, the tour educates listeners about different aspects of the environment surrounding I-70. The tour features a string of informational stories and interviews with experts that correlate to specific locations along the highway. These stories cover various topics such as the Eisenhower Tunnel's history, little-known facts about the iconic Colorado River, and the science behind the wildlife who call this area home, like bighorn sheep, lynx, and elk. The tour is complete with an interactive map showing where each tour segment begins and the locations of local sponsors.
To listen to the tour as you drive down I-70, download the izi.Travel app and search for the Wild I-70 Audio Tour. You can also download the tour to the app to avoid using the internet. Once you hit play, the tour will play continuously in relation to relevant landmarks you pass, no matter which direction you travel down I-70.
Aside from being educational and interesting, the Wild I-70 Audio Tour explains the need for wildlife crossing structures along I-70. Every year, over 300 wild animals are hit while attempting to cross I-70. This is because the road divides two major wilderness areas and is a crucial corridor for animal migration. Wildlife-vehicle collisions also result in about 300 cases of bodily injury to drivers every year in Colorado (CDOT, 2019). However, wildlife crossing structures have already proven to significantly alleviate this problem. For example, "wildlife crossing structures constructed on State Highway 9 have already reduced wildlife-vehicle collisions by nearly 90% since they were completed in 2016," says Rocky Mountain Wild Conservation Biologist and GIS Specialist, Paige Singer. Creating wildlife crossing structures along I-70 would let animals cross safely, allowing drivers and wildlife to coexist peacefully.
For more information about the Wild I-70 Audio Tour, visit http://www.wildi70.org. To download the Wild I-70 Audio Tour, visit http://bit.ly/wildi70.
To support this work, you can make a one-time donation or join our Super Species Squad by becoming a monthly donor! If you would like your donation to specifically support the Wild I-70 Audio Tour, select "Wild I-70" under "Direct My Donation."
For the wild!
Sofia Corley
Intern