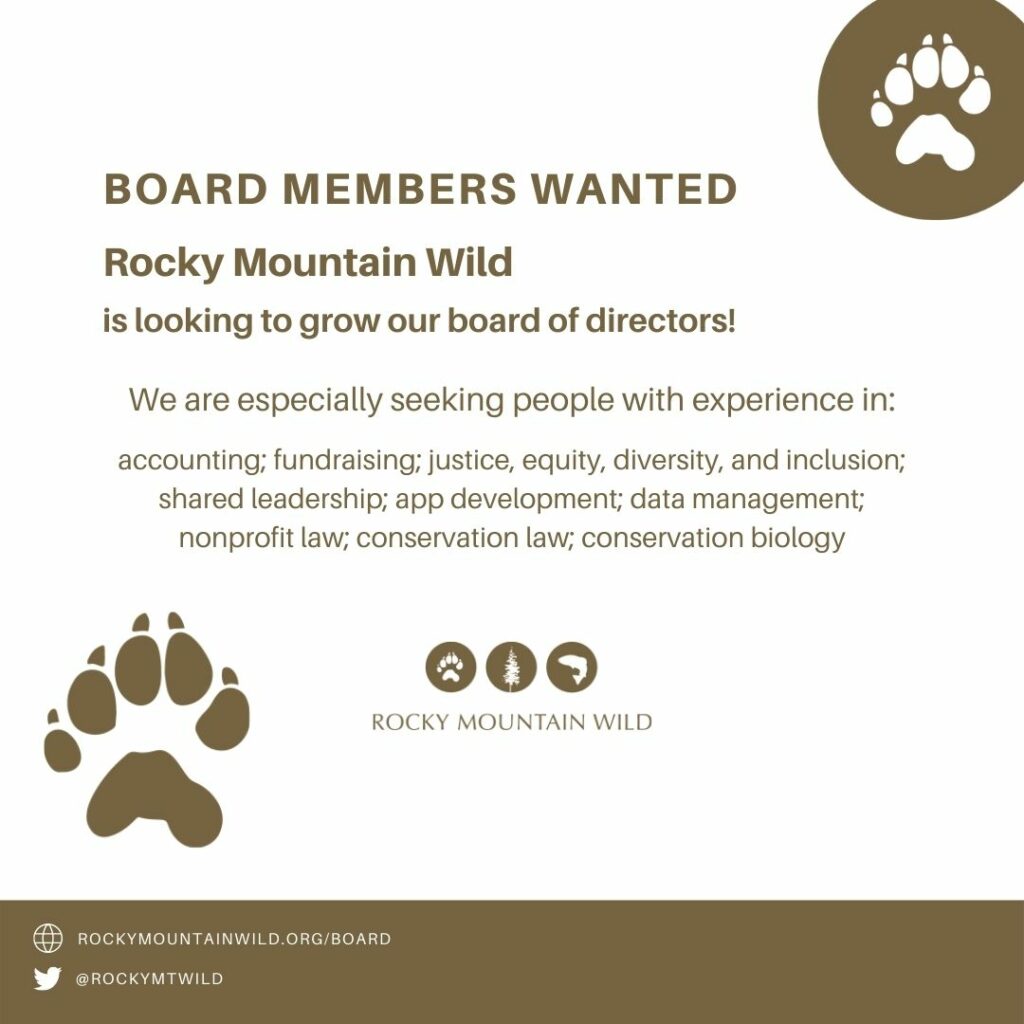 Every Friday, we post ways that you can contribute to making our region a greener place, including events, community science projects, jobs, internships, scholarships, volunteer opportunities, and direct actions.
If you have something you would like included in the next round-up, please email Chris at chris@rockymountainwild.org.
Stay informed, engaged, and educated!
Consider making a one-time donation or joining our Super Species Squad of recurring donors to help support this work!
Featured Resources
Colorado EnviroScreen Mapping Tool
Colorado EnviroScreen is an interactive environmental justice mapping tool. Version 1.0 of Colorado EnviroScreen launched on June 28, 2022. It was developed for the Colorado Department of Public Health and Environment (CDPHE) by a team from Colorado State University.
How to advocate for wolves in Colorado right now
Last month, Rocky Mountain Wild partnered with Endangered Species Coalition, WildEarth Guardians, and Patagonia Denver to host a Wolves of Colorado Speaker Panel with John Murtaugh (Defenders of Wildlife) and Karin Vardaman (Working Circle). Here are the resources from that event that can help you advocate for wolves right now.
Free public transportation in the Denver metro area (and other areas in Colorado) all August
Throughout August, public transportation in the Denver metro area and other towns across Colorado will be completely free for the Zero Fare for Better Air initiative! The free fare program is part of the Programs to Reduce Ozone Through Increased Transit bill that passed earlier this year.
Even if you typically don't use public transportation, consider doing so for the month of August. Let's show RTD and our lawmakers that reduced fares would mean more fares and less pollution from traffic.
BIPOC Experiences on Colorado Public Lands
Next 100 Colorado is collecting information about the experiences of Black, Indigenous, and people of color on public lands in Colorado. They hope to capture the good, the bad, and everything in between, in service of better understanding the experiences of BIPOC in our publicly owned spaces. And, if needed, creating or modifying policies to make our outdoors more inclusive of all people. Please help us get the word out about this effort, and encourage your BIPOC friends, colleagues, and family to share their experiences, whether recent or from the past. More information and a link to the collection form are available here.
Black Lives Matter Actions & Resources
For those looking for ways in which to demand an immediate end to police brutality and to defend Black lives, here are some resources:
A list of resources collected from personal recommendations from Next 100 Colorado centered around Justice, Diversity, Equity, Inclusion, and Anti-racism.
Groups to listen to, donate to, and follow the lead of:
Resources to learn more:
Resources here in Colorado if you need some help right now
For those struggling with coronavirus-related issues, here are some resources:
Food Resources:
Shelters and Housing:
Unsafe Stay-At Home Situations:
Mental Health Resources:
If you know of a resource that should be on this list but isn't, please let me know.
Organizations working towards equity in the outdoors
Here are some organizations to follow working towards equity, inclusion, and access in the outdoors:
Events Happening In-Person
For those who feel safe, here are some events happening in person. Please practice proper distancing and wear your mask while taking part in these events:
All locations are in Colorado unless indicated otherwise.
Events Happening Remotely
Here's a list of environmental events, happening remotely:
Community Science Projects
Here are some community science projects you can sign up for. Please keep in mind that due to coronavirus some of these projects may not be immediately available this field season:
Jobs, Internships, and Fellowships
Here are some job and internship openings in the environmental field: (For equity reasons, we only post job postings with transparent salary ranges)
Colorado's Equal Pay for Equal Work Act went into effect on January 1, 2021 and requires that pay rates or ranges in job postings that will be or could be done in Colorado (including remote work) be posted. Colorado's minimum wage is currently $12.56. The City of Denver's minimum wage is currently $15.87. Colorado's minimum salary for exempt workers is $45,000.
Job List Sites to Check
Other Job Postings (Jobs that are new this week are highlighted in green)
Volunteer Positions
Here are some volunteer positions. Please practice proper distancing while taking part in any in-person volunteer opportunities:
Direct Environmental Actions
Urgent actions (those will deadlines fast approaching):
New actions since last week:
Rocky Mountain Wild's older (but still relevant) actions: