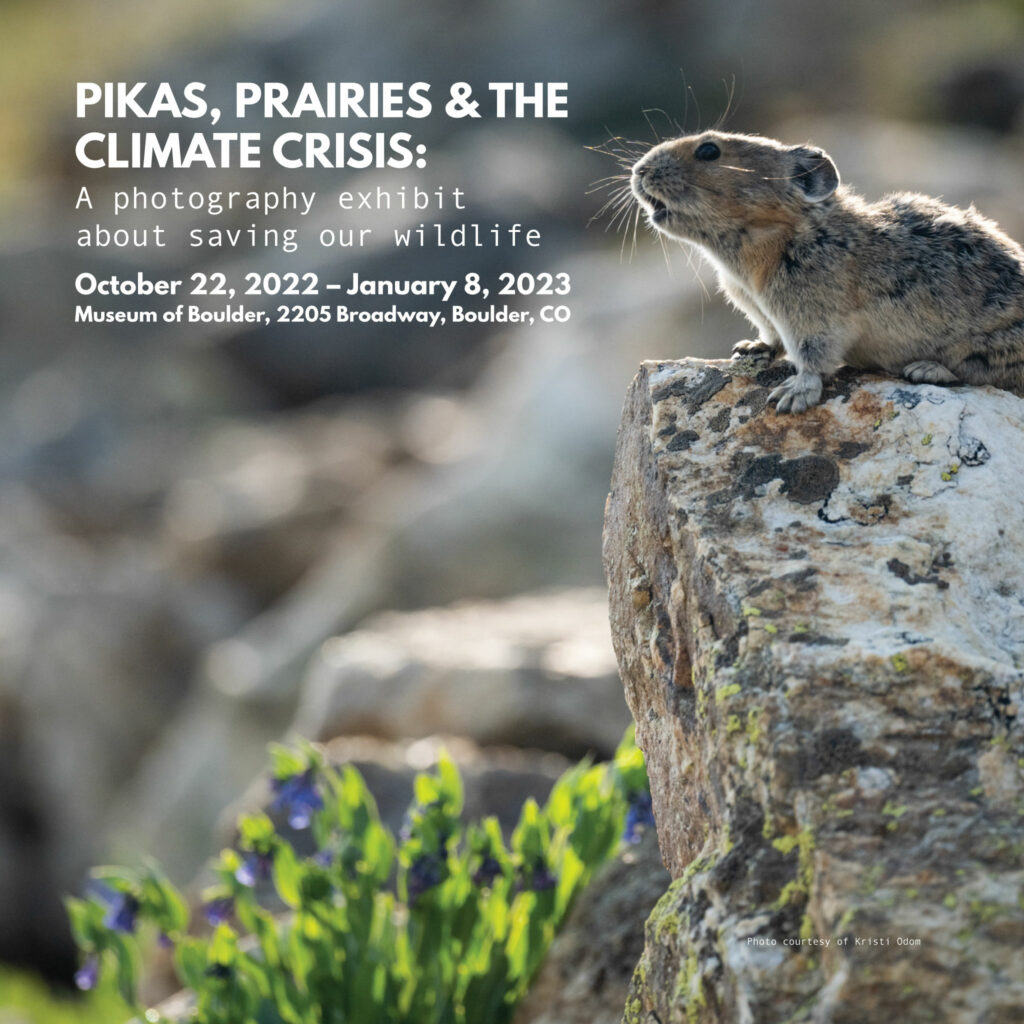 Every Friday, we post ways that you can contribute to making our region a greener place, including events, community science projects, jobs, internships, scholarships, volunteer opportunities, and direct actions.
If you have something you would like included in the next round-up, please email Chris at chris@rockymountainwild.org.
Stay informed, engaged, and educated!
Consider making a one-time donation or joining our Super Species Squad of recurring donors to help support this work!
Featured Resources
Give the gift of biodiversity between National Philanthropy Day (Nov 15) and Giving Tuesday (Nov 29) and be entered in a drawing for two gift bags
To show our gratitude to donors joining our Super Species Squad of monthly donors, any new general fund monthly donations and increased monthly donations made between National Philanthropy Day (November 15) and Giving Tuesday (November 29) will enter you in a drawing for two gift bags. One contains: a plush little brown bat, bat tee, and Bat Ambassador magnet. The other: a plush American pika, The American Pika: Notes from the Field book, Colorado Pika Project sticker, an American pika sticker from Deirdre Denali Photography.
Monthly donations are a nonprofit's most stable source of funding. We won't get all the grants we write proposals for, we don't know if our end-of-year or mid-season ask will result in the donations we need, but we can guarantee that the monthly donors we have will (generally) give every month. We can calculate that and count on it.
Join as a monthly donor today!
Take action with Spirit of the Sun to help shutdown Suncor for good and combat Suncor's harmful impacts to BIPOC and low-income communities
SunCor Energy, a Canadian-run company, runs an oil refinery north of Denver, Colorado. Suncor is Colorado's only oil refinery and one of our largest emitters of greenhouse gasses and toxic air pollutants, and has been operating without any changes to its procedures or pollution controls for years. In spite of numerous enforcement actions and settlements, Suncor continues to flout air quality laws, putting neighboring communities — who are primarily BIPOC and low-income — at extreme risk. Suncor has no regard for human or non-human life and will continue to harm our communities if action is not taken.
Please take a moment to watch Spirit of the Sun's short film on Suncor's impact on Colorado's Indigenous communities or scroll to the bottom of the page to send a form letter to Governor Polis, Colorado Dept. of Health and Environment, and the EPA asking them to shut down Suncor for good: https://www.suncorsundown.org
Donate to Spirit of the Sun's efforts to combat Suncor's harmful impacts through their Mycelium Program which trains their community members to inoculate the soil in their communities and throughout Native land with networks of mycelium to restore the health of our soil systems. When we cannot depend on the systems in power to create change, we educate ourselves and our community to protect the systems we hold dear: https://www.spiritofthesun.org/mycelium
Help Summit County Safe Passages fund wildlife crossings on East Vail Pass
Summit County Safe Passages has officially launched a campaign for the new I-70 wildlife crossings on East Vail Pass! For those of you who have participated in the Colorado Corridors Project checking and moving cameras or identifying species caught on camera on our Zooniverse platform, you know that these crossings are necessary for moose, mountain lions, elk, mule deer, bighorn sheep, and at least a couple of Canada lynx — just to name a few species. Stay tuned for actions regarding this campaign. In the meantime, you can donate to Summit County Safe Passages to help fund this work: https://rockymountainwild.givingfuel.com/summitcountysafepassages
Colorado Ski Areas Partner with Snowstang to help reduce congestion and emissions on I-70
Four Colorado ski areas are partnering with the Colorado Department of Transportation on their ski bus service, Snowstang. This service allows riders to avoid winter driving and provides the ability to relax instead of dealing with traffic. Through this partnership, Snowstang limited greenhouse gas emissions, took vehicles off I-70 and took stress off overwhelmed resort parking lots allowing more customers to hit the slopes.
Snowstang coaches carry 51 passengers, are climate controlled, have Wi-Fi access, ski/equipment storage, a restroom, USB and power outlets, and will be taking folks to Arapahoe Basin Ski Area, Copper Mountain Resort, Loveland Ski Resort, and Steamboat Ski Resort. Visit the booking site for more information and bookmark it to buy your bus tickets when they become available.
Colorado EnviroScreen Mapping Tool
Colorado EnviroScreen is an interactive environmental justice mapping tool. Version 1.0 of Colorado EnviroScreen. It was developed for the Colorado Department of Public Health and Environment (CDPHE) by a team from Colorado State University.
How to advocate for wolves in Colorado right now
Last month, Rocky Mountain Wild partnered with Endangered Species Coalition, WildEarth Guardians, and Patagonia Denver to host a Wolves of Colorado Speaker Panel with John Murtaugh (Defenders of Wildlife) and Karin Vardaman (Working Circle). Here are the resources from that event that can help you advocate for wolves right now.
BIPOC Experiences on Colorado Public Lands
Next 100 Colorado is collecting information about the experiences of Black, Indigenous, and people of color on public lands in Colorado. They hope to capture the good, the bad, and everything in between, in service of better understanding the experiences of BIPOC in our publicly owned spaces. And, if needed, creating or modifying policies to make our outdoors more inclusive of all people. Please help us get the word out about this effort, and encourage your BIPOC friends, colleagues, and family to share their experiences, whether recent or from the past. More information and a link to the collection form are available here.
Black Lives Matter Actions & Resources
For those looking for ways in which to demand an immediate end to police brutality and to defend Black lives, here are some resources:
A list of resources collected from personal recommendations from Next 100 Colorado centered around Justice, Diversity, Equity, Inclusion, and Anti-racism.
Groups to listen to, donate to, and follow the lead of:
Resources to learn more:
Resources here in Colorado if you need some help right now
For those struggling with coronavirus-related issues, here are some resources:
Food Resources:
Shelters and Housing:
Unsafe Stay-At Home Situations:
Mental Health Resources:
If you know of a resource that should be on this list but isn't, please let me know.
Organizations working towards equity in the outdoors
Here are some organizations to follow working towards equity, inclusion, and access in the outdoors:
Events Happening In-Person
For those who feel safe, here are some events happening in person. Please practice proper distancing and wear your mask while taking part in these events:
All locations are in Colorado unless indicated otherwise.
Through 1/8/2023 Boulder – Pikas, Prairies, and the Climate Crisis: A photography exhibit about saving our wildlife. Using stunning field photography and video this exhibit explores the surprising connections between Colorado's shortgrass prairies and the American pika. Pikas, a cold-loving species that live in the high-altitude mountains, are threatened by warming temperatures and diminishing snowpack. Their survival may depend on our ability to protect a place hundreds of miles from their alpine home — the Great Plains. Visitors will learn about conservation efforts to connect the dots between these two diverse areas, as well as ways that they can become involved in protecting pika, prairies, pronghorn, and more.
11/25 Denver – Nerd Nite Denver. Pokémon, Botany, and 2022. This month, Earl Anema is back to explain design theory using Pokémon, Dr. Katherine Hayes returns to expose the dirty secrets of the plant world, and Dr. Nolan Wilson makes his annual appearance to review the year in science at our last show for 2022! If you are a fan of TED talks, the Discovery Channel, Wikipedia binges, and drinking, Nerd Nite Denver is the show for you!
11/30 Near Longmont – Hikes for Seniors – Autumn in Boulder County. Join volunteer naturalists for a moderate hike to explore and learn about the unique geology, history, plants, and wildlife of these beautiful properties. Join us for an easy walk with Naturalists while you observe the changes on the landscape as wildlife and plant life prepare for the harsh conditions of winter on the prairie.
12/1 Denver – The Great Space Escape. Strap on your space boots for a crash course in cheeky constellations and galactic hijinks with Museum Educators (and all-around hilarious hosts) Jose Zuniga and Mitch Slevc. These cosmically comical astronomers will use our state-of-the-art Planetarium screen to take you on a journey through the unexpected history, science and humor of the night sky!
12/1 Longmont – Restoring Knowledge Ways: Ecological Indigenous Principles and Practices. The Society for Ecological Restoration – Rocky Mountain Chapter invites you to join in an evening of learning with CSU Professor Dr. Doreen E. Martinez. Dr. Doreen's expertise is in Indigenous knowledge systems and sociopolitical land and environment issues. Her work focuses on how cultural knowledge, the theoretical grounding of our lives, is engaged and practiced. She will be sharing Indigenous principles and ways of being. Her offering will focus on Indigenous connections to lands, the landscape – in all its complexities and mysteries. As an Indigenous epistemologist, someone who spends a lot of time exploring how we create knowledge, she will be describing, discussing, and illustrating Indigenous ways of knowing, and the processes by which we come to understand, know, the natural world.
12/3 Near Glenwood Springs – Posada y corte de Arboles de navidad. Únase a Defiende Nuestra Tierra, Wilderness Workshop y el Servicio Forestal de EE. UU. para comenzar o continuar una tradición familiar de encontrar y cortar su propio árbol de Navidad. No dejes de crear nuevos recuerdos y contagiarte del espíritu navideño con la celebración de nuestra Posada. El personal del Servicio Forestal y Smokey Bear estarán en el lugar para enseñar sobre las mejores maneras de elegir un árbol y cuidarlo durante las fiestas. Tendremos permisos GRATIS para árboles de Navidad, herramientas extras, bebidas calientes y tamales tradicionales para disfrutar y celebrar la Posada.
12/3 Near Glenwood Springs – Posada & Christmas Tree Cutting in the Thompson Divide. Join Defiende Nuestra Tierra, Wilderness Workshop, and the US Forest Service to begin or build on a family tradition of finding and cutting your own Christmas tree. Don't miss making new memories and getting in the Christmas spirit with the Posada celebration. Forest Service staff and Smokey Bear will be on-site to teach about the best ways to pick out a tree and care for it through the holidays. We will have FREE Christmas tree permits, extra tools, hot drinks, and traditional tamales to enjoy and celebrate the Posada.
12/3 Colorado Springs – Blackpackers Hiker Trash Prom. At this year's "Hiker Trash" prom you can expect live local music, dancing, food and beverage, drinks from local breweries and wineries, speakers, and a silent auction. Together, raise a glass in celebration of our progress toward making outdoor recreation more accessible to all members of our community.
12/14 Denver – Indigenous Film "A Morning with Aroha." See a virtual screening of the short film "A Morning with Aroha" by director Nicholas Riini (Tūhoe). This morning, young Aroha, is on an early morning mission. She finds her creative outlet and with a little bit of magic brings her imaginary world to life, spreading joy to her friends, family, neighbors, classmates, and all who pass by. A story about the power of family, of art, and of aroha (love). (Illumi Ngati Media Ltd, 2022, 11 min.). This film contains a small amount of adult language. Following the film, join us for discussion with filmmaker Nicholas Riini, moderated by Mervyn Tano, President of the International Institute for Indigenous Resource Management. The program is presented partnership with the International Institute for Indigenous Resource Management as part of the 19th Annual Indigenous Film & Arts Festival.
12/14 Carbondale – Unified for Thompson Divide. Join fellow Thompson Divide supporters to show the federal agencies that our community remains "Unified for Thompson Divide!" We'll be gathering at the Third Street Center to write comments and make signs before walking over to the Carbondale Fire Department where we'll tell the Forest Service and BLM that we support an Administrative Mineral Withdrawal!
Events Happening Remotely
Here's a list of environmental events, happening remotely:
Community Science Projects
Here are some community science projects you can sign up for. Please keep in mind that due to coronavirus some of these projects may not be immediately available this field season:
Jobs, Internships, and Fellowships
Here are some job and internship openings in the environmental field: (For equity reasons, we only post job postings with transparent salary ranges)
Colorado's Equal Pay for Equal Work Act went into effect on January 1, 2021 and requires that pay rates or ranges in job postings that will be or could be done in Colorado (including remote work) be posted. Colorado's minimum wage is currently $12.56. The City of Denver's minimum wage is currently $15.87. Colorado's minimum salary for exempt workers is $45,000.
Positions are in Colorado or remote opportunities unless otherwise stated.
Job List Sites to Check
Other Job Postings (Jobs that are new this week are highlighted in green)
Volunteer Positions
Here are some volunteer positions. Please practice proper distancing while taking part in any in-person volunteer opportunities:
Direct Environmental Actions
Urgent actions (those will deadlines fast approaching):
Take action with Rocky Mountain Wild. Submit your comments to protect greater sage-grouse and wild spaces by asking the Bureau of Land Management to remove affected areas from the upcoming Utah oil and gas lease sales parcel list. Comments are due December 21.
Evergreen actions (until we succeed):
New actions since last week:
Rocky Mountain Wild's older (but still relevant) actions: