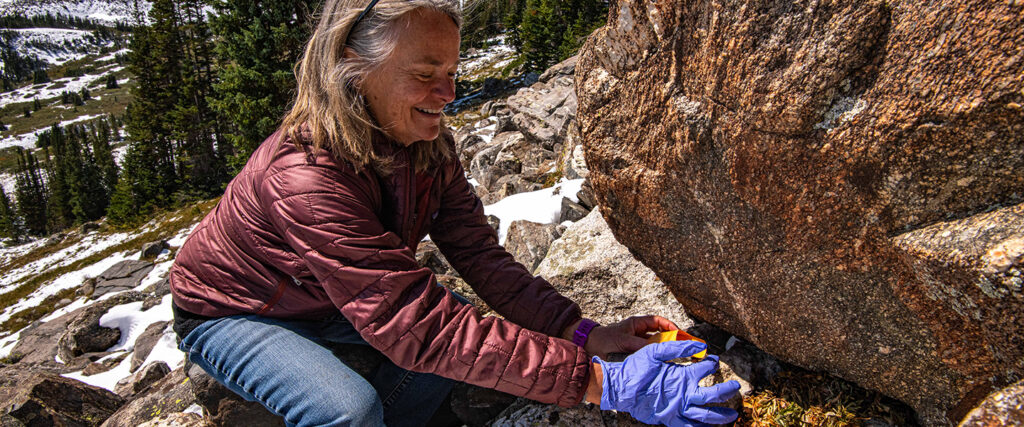 A special message from Tehri, our Executive Director
They don't make an emoji to describe what I am feeling as I write this. If they did, one half would look filled with happy anticipation, while the other half would look sad and somewhat scared. You see, I am retiring at the end of this week! I have had a long career in nonprofit management (almost 27 years), and these last ten at Rocky Mountain Wild have been some of my favorites. I couldn't be prouder of the Rocky Mountain Wild team and the things that we have accomplished together. From stopping destructive development in wildlife habitats to leading cutting-edge community science programs, our little team is truly making the world a better place for wildlife and people alike.
It's very hard to walk away, but the mountains are calling me. I am excited to see what is next for the organization and look forward to volunteering as a community scientist! I know I will see many of you again out in the field or at one of RMW's events. Thank you for being part of this wonderful journey and for supporting Rocky Mountain Wild.
Megan Mueller (our Senior Conservation Biologist) will be stepping up as Interim Executive Director and working with the board and staff to lead this transition. Rocky Mountain Wild is in very good hands. So, allow me to officially pass the baton to Megan…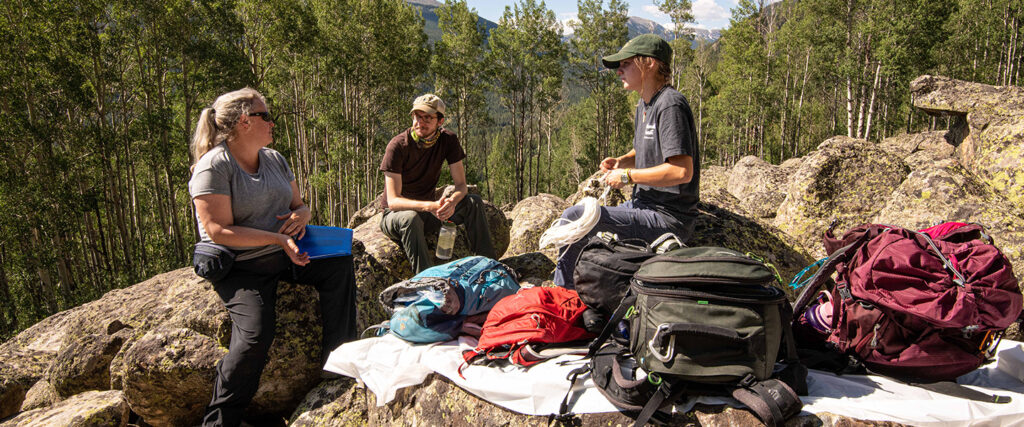 A message from Megan, our Interim Executive Director
I will be stepping up to lead Rocky Mountain Wild as Interim Executive Director when Tehri retires at the end of the week. I am Rocky Mountain Wild's Senior Conservation Biologist and have been with Rocky Mountain Wild for 15 years. I currently lead many of our research and community science programs. I was also on the founding board of Colorado Wild (one of the organizations that merged to form Rocky Mountain Wild). I am very passionate about the organization and our work and I am looking forward to working with our board, staff, and supporters to facilitate a smooth leadership transition.
I have really enjoyed working under Tehri and learning from her effective leadership over the past ten years. I'd like to take a moment to highlight a few of the accomplishments Rocky Mountain Wild has celebrated with Tehri's leadership.
We protected Wolf Creek Pass, one of the ten most important wildlife linkages in the United States, from development with Friends of Wolf Creek.
We identified I-70 East Vail Pass as a priority initiative and have made significant strides with Summit County Safe Passages toward building three recommended wildlife crossing structures, including the completion of a feasibility study and beginning to raise funds for construction.
We built a robust community science program with hundreds of active volunteers who contribute to research initiatives informing efforts to conserve wildlife in the region, including the Colorado Pika Project and the Colorado Corridors Project (partnerships with Denver Zoo).
We supported the conservation community with geospatial mapping and analysis that increased the effectiveness of campaigns, including the effort to map and document lands with wilderness characteristics across Colorado, which resulted in the Bureau of Land Management adding at least a million acres to their inventories of wild lands. We also used interactive mapping and visual storytelling to advance campaigns (e.g., Colorado's 8 Billion Dollar Oil and Gas Crisis).
We helped defer more than 2.5 million acres of public land from oil and gas development by providing the conservation community and activists with tools to effectively advocate for withdrawal of oil and gas leases in areas with critical wildlife habitat and other natural resources and successfully challenging oil and gas drilling proposals.
We helped at-risk species gain Endangered Species Act (ESA) protection. We engaged in advocacy and won lawsuits that resulted in Gunnison sage-grouse gaining protection under the ESA and laid the groundwork for gaining protection for wolverines, white-tailed prairie dogs, and rare wildflowers. We also won lawsuits that require the U.S. Fish and Wildlife Service to develop a recovery plan and reconsider critical habitat for lynx in Colorado.
We built and strengthened successful strategic partnerships to more effectively achieve our conservation goals, from Summit County Safe Passages to Friends of Wolf Creek to our community science partnerships with the Denver Zoo.
We created opportunities for a diverse community to engage in our work and help us make our vision a reality. Tehri's ideas to involve people in our work included: 1) Colorado Endangered Species Week, a week of free or low-cost educational events and opportunities to advocate for Colorado's at-risk animal and plant species, 2) our Gender Advancement and Parity in STEM program, which provides paid internships and empowering work experiences for people from marginalized genders exploring careers in science, and 3) the Wild I-70 Audio Tour, which inspired thousands of motorists to learn more about the wildlife and wild lands, and the importance of habitat connectivity, along the I-70 mountain corridor.
You can learn more about what we have achieved under Tehri's leadership here. We are grateful to Tehri for making all of these accomplishments possible. 
In addition to being instrumental to so many successes, Tehri helped RMW become a financially stable organization, guided us through the challenges we faced due to the COVID-19 pandemic, and helped us build momentum on current campaigns that our team is excited to build on moving forward.
Tehri is leaving RMW in excellent shape. I am excited to work with our board, staff, and supporters to ensure a smooth transition and continue our important work to conserve biodiversity in the region.
Of course, none of these successes would have been possible without our partners and supporters. We are inspired by and grateful for the time, energy, expertise, and funds you contribute to our cause. We couldn't do this work without our incredible community of volunteers, donors, and partners. We know that you will be there to help us continue to make strides towards protecting biodiversity.
From the Staff and Board
As part of this email, which will be a complete surprise to Tehri, some of our staff and board wanted to share stories, accomplishments, and well-wishes.
Laura, our Board President, wanted to share her thoughts:
Tehri Parker's stewardship of RMW can be characterized by her strong leadership and management and her tireless efforts to increase the visibility and credibility of RMW in the environmental arena. Speaking as Board President, she has made the Board's job easier in carrying out our duties and responsibilities because of her knowledge, valuable advice, and strategic thinking. Her devotion to the job of Executive Director will be difficult to match, but she leaves RMW a better organization and on a stronger footing for those that follow.
Paige, our Conservation Biologist/GIS Specialist, wanted to share her thoughts:
I am so grateful for Tehri's phenomenal leadership over the last ten years. She came in when times were tough, and I remember distinctly being re-energized by her confidence in the organization. Tehri treats us all like family, and I will miss the passion and sensibility she brought to work with her every day. I'm excited for her to start her next adventure and can't wait to hear about it!
Matt, our Staff Attorney, wanted to share his thoughts:
I consider Tehri more of a friend than a boss. Not that she didn't give constructive professional feedback and hold firm to organizational rules, but you always knew she had our best interests at heart. Tehri was welcoming to the point of opening her house to us for mini-vacations in the mountains when she was out of town. Tehri dove headfirst into RMW's programs and mission and understood why they are so important. She became a passionate activist for biodiversity, connectivity, public lands protection, and keeping our small organization afloat. RMW is a better and stronger organization because of Tehri's efforts and we are grateful for her time with us. I will miss working with Tehri, but I know our friendship will continue.
Megan, our Senior Conservation Biologist, wanted to share her thoughts:
I have loved working with Tehri for the past ten years. Tehri helped me figure out how to avoid burnout and renew my inspiration for conservation work. She took care of our staff and made it a joy to work at RMW. One of my favorite things about Tehri was her openness to new ideas and willingness to take risks. We often came to Tehri with good but somewhat unrealistic ideas. Tehri's response was to get creative and help us figure out how to bring our ideas to life. Tehri's hard work made it possible for us to protect places and wildlife that I love. I am really happy that she will now have time to get out and enjoy the mountains and the wildlife that she worked so hard to protect!
Alison, our Principle Conservation Geographer, wanted to share her thoughts:
Tehri, at the same time, I wish you all the best for this next stage in your life journey and I am sad that you are leaving Rocky Mountain Wild. It is a tribute to you as a person and a leader that your departure brings out strong emotions in so many of us.
Chris, our Communications and Membership Manager, wanted to share a couple quintessential Tehri stories:
Tehri hired me for my first nonprofit job 20 years ago and recruited me when my current position at RMW opened up, so it's hard to pick just two Tehri stories in our 12+ years working together but here goes my best effort. I chose the two lessons she taught me that set me up to have a career in the sector as long and as successful as hers has been:
Every moment in my career with Tehri where she told me that she believed I could learn something that I was afraid I was going to screw up: Almost all the skills I carry with me today were learned through Internet searches, tutorials, and other free means with Tehri's encouragement. When you work for a small nonprofit, you often have to become a Jesse-of-all-trades to complete the work that needs to be done. Through Tehri's encouragement, I taught myself things like graphic design, web design, illustration, Salesforce Administration (Sort of, there are limits. LOL.), and more importantly, I can learn things I need to know to do the work and save the world.
The first time Tehri taught me that the secret to a long-term career in the nonprofit sector is setting boundaries and taking time and space (such as it may be) for personal care: During my first Energy Fair (imagine a 3-day event with 20k attendees) I was in a complete state of panic searching for my direct supervisor or Tehri to ask what I thought was a life-or-death question. (It was probably the most trivial thing ever, but everything is an emergency when it's your first year and you want to do things "right"). I searched high and low and eventually saw what appeared to be a light blue Chaco poking out from behind Tehri's desk chair — with a foot in it. Tehri was hiding under her desk. Since we had an open floor plan and she didn't have a door, she was scrunched under her desk to get some personal time. After the Energy Fair ended, she was sure to tell me that we all need and should take time away, even (especially) when there's an important 3-day event with 20k attendees, and everything feels like it needs to happen immediately. We can't save the world if we haven't properly cared for ourselves.
A huge thank you to Tehri for these life lessons that have helped me through the last 20 years and will, undoubtedly, help me through the next.
For the wild!

Alison, Chris, Matt, Megan, Paige, and Tehri