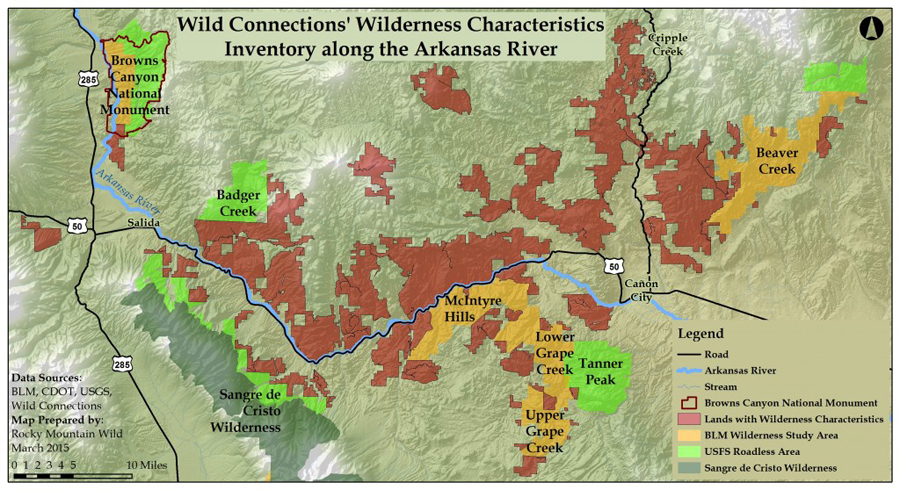 Up the East Gulch from its confluence with the Arkansas River, a few miles east of Texas Creek in Fremont County, is Echo Canyon. Further up the gulch, Table Mountain looms to the southwest, past Bull Ridge.
Surrounding this mountain, gulch and canyon are 32,000 acres of roadless Bureau of Land Management (BLM) land. The area is classified under the BLM's Area of Critical Environment Concern (ACEC) because of its valued species. It is a BLM Instant Study Area protecting 17 native grasses, and an important wildlife corridor for mountain lion, Rocky Mountain bighorn sheep, black bear, elk, mule deer, pronghorn, Gunnison prairie dog, wild turkey, peregrine falcon, Mexican spotted owl, great blue heron and bald eagle. Conservation Science Partners (CSP) recognizes 7,641 acres of Table Mountain as having "important ecologically based indicators of high biodiversity, resilience to climate change, and landscape connectivity." The unit is deemed one of Central Colorado Wilderness Coalition's (CCWC) top 11 areas worthy of wilderness designation.
Read More in Colorado Central Magazine.
You can help protect these areas by being one of the first people to participate in the process to update the Eastern Colorado Resource Management Plan (RMP).  Learn more about this process on the Bureau of Land Management's RMP Website and Wild Connections's Website.