I guess she's right…
By: Matt Sandler, Rocky Mountain Wild
June 13, 2017
We spent a morning at Natural Bridges National Monument. This is a National Monument within Bears Ears National Monument. Natural Bridges was declared a National Monument by President Theodore Roosevelt in 1908. The Monument was rarely visited as it was accessible by a three day horseback ride from Blanding, UT. The uranium boom of the 1950s resulted in the creation of new roads, including Route 95 which cuts east and west through the heart of Bears Ears and just south of Natural Bridges.
We went to the visitor center and the ranger informed us that it is the oldest National Monument in Utah; and that dogs are not allowed on the trails. We had our dog with us so I brought her back to our pop-up camper.
Upon my return Leo and Micah were getting deputized as "Junior Rangers."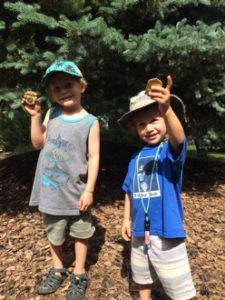 They'll give just about anyone a badge these days…
I was also informed that while I was gone, Leo had mentioned to the Ranger that there were petroglyphs at our campsite. The Rangers were interested to know more about our amazing campsite and Jen had provided an approximate location.
I felt a bit perturbed. What if they close the site to camping? What if I cannot return there? What about me!
Jen felt good about the possibility that the Federal agents would help to protect this beautiful and culturally significant site. She felt that it was too nice to have to suffer the impacts of human habitation (i.e. human feces, toilet paper, bullet casings).
Jen felt that disclosing the site to federal authorities was the right thing to do for the higher good of the Monument.
Jen's feelings are in stark contrast to a fairly large percentage of the population in nearby Blanding, Utah.
Blanding is a town of approximately 3,500 people and is only a few miles from Bears Ears National Monument. We decided that after 6 straight nights of camping, we needed a shower and a laundromat, so off to Blanding! Not much is open in Blanding on a Sunday, except the churches and the Subway.
As I was placing our order at the Subway, I noticed the guy in line behind me. He looked approachable, so I struck up a conversation. I asked him about the "No Monument" signs around town. He was from Blanding, although had recently moved his family to Cedar City, Utah. He explained that most of the residents of Blanding were either very conservative or libertarians. They did not want the federal government to tell them what to do on their land.
He asked if I had heard about the artifact sting back in 2009. I hadn't. Apparently, "armed federal agents swept into Blanding…arresting 17 people there and ending a two-year federal sting aimed at a black market in ancient American Indian artifacts."[1] A preeminent local physician who was arrested, committed suicide following the incident. Some townspeople were still upset about how the federal government handled the situation and this influenced their opposition to the Monument designation.
This guy then told me about a county commissioner who organized a 4-wheeler ride through a canyon closed to motor vehicles. Large numbers of Blanding residents participated and the Commissioner was fined $250,000 by the Bureau of Land Management. The townsfolk all pitched in to pay the fine. Many people who live in Blanding do not appreciate restrictions on where they can and cannot ride their off-road vehicles. They know the National Monument designation will limit where they can recreate. These folks want to do as they please on our public lands.
The guy explained that we are in Trump country. These residents vote based on gun issues or solely on party lines. He had moved his family away, but still commuted back for work and to see family. He did not trust the local communities or the State to adequately protect these lands. He was for the National Monument designation.
Clearly, I did not initially like the idea of the Federal Government closing my favorite campsite. Was I being selfish? Was I putting my desires and interests over the higher good of the National Monument? Jen sure thought so – I guess she's right…
[1] http://www.npr.org/templates/story/story.php?storyId=106091937
Did you see The SabbMattical Chronicles – Volume 9, The SabbMattical Chronicles – Volume 8, The SabbMattical Chronicles – Volume 7, The SabbMattical Chronicles – Volume 6, The SabbMattical Chronicles – Volume 5, The SabbMattical Chronicles – Volume 4, The SabbMattical Chronicles – Volume 3, The SabbMattical Chronicles – Volume 2, or  The SabbMattical Chronicles – Volume 1?