Jump Ship?
By: Matt Sandler, Rocky Mountain Wild
June 6, 2017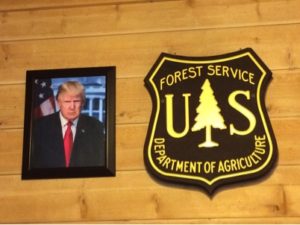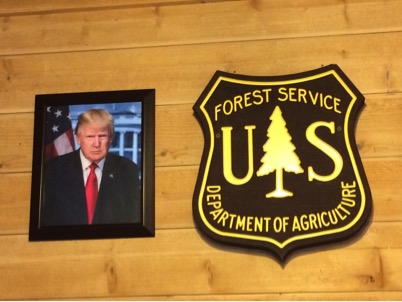 What would I do if I had to walk into an office every day and see this guy's picture on the wall?[1]
If I knew my boss was against much of what I believe in, would I jump ship or feel that I could change things from the inside?
Jim Bedwell, the director of recreation, lands, minerals and volunteers for the U.S. Forest Service's Rocky Mountain region recently announced his retirement. He is a "38-year Forest Service veteran [who] championed recreation on public lands." His policies "committ[ed] the Rocky Mountain Region to providing more recreation…opportunities on Forest Service Lands."[2] I wonder why he chose to retire.
I met Jim Bedwell at a BBQ lunch sponsored by Great Outdoors Colorado. He was wearing Forest Service attire and may have had on a nametag. I was standing behind him in line. One of us struck up a conversation and it came out that I worked for Rocky Mountain Wild. He immediately associated the organization with Wolf Creek. As we finished filling our plates with food and were about to go our separate ways, he turned and said, "good luck." It felt sincere.
Mr. Bedwell spent countless hours overseeing the Wolf Creek decision. He reviewed documents, provided feedback and advice, and helped structure the decision that the Court ultimately set aside. I wonder how Mr. Bedwell feels about the Court's decision. Did he really believe Wolf Creek Pass was an appropriate place for such a massive development? Or was his "good luck" an insight into his true feelings about this project?
Through our extensive review of the agencies communications about the Wolf Creek decision, we know that Dan Dallas, Forest Supervisor for the Rio Grande National Forest, who was tasked with making the final decision on whether to approve the land transfer that allowed for the Village development, had wanted to choose the "No Action" alternative. Choosing the "No Action" alternative would have denied access to construct the Village. Mr. Dallas was told by agency attorneys that he could not make that decision. Could Mr. Dallas have stuck to his convictions and said "no Village?" What would have happened to him if he had?
I have to imagine that Dan Dallas is happy with the Court's decision. It's the outcome that he had wanted. I'm sure other Forest Service employees feel the same way. But in this instance they could not, or did not, change things from the inside. I believe they were just following orders from higher up the chain of command.
Red McCombs continuously threatened to use his political connections to get the result he wanted. Through our review of the agency communications we found threats that Red McCombs is getting "frustrated" and may "begin making calls to his friends in Washington," "McCombs is rattling cages," and "political bells will start ringing loudly." Did his calls, cage rattling, and bell ringing actually work to get the result he wanted? It seems like it had, but luckily the checks and balances in our system also worked. Were there repercussions within the Forest Service for the failure to make Red's dream a reality?
At the end of the day, Jim Bedwell is 64 years old, has worked for the Forest Service for 38 years, and has his reasons for retiring. While I may not agree with all Mr. Bedwell has done during his tenure at the Forest Service, I appreciate his commitment to public service and his efforts towards finding a balance in managing our Forests. As a skier, I'm sure I've benefitted from some of the recreation opportunities he helped make a reality. I sincerely hope he enjoys his retirement and gets to hit up some powder days at Wolf Creek.
[1] I kid you not – when this picture was imported into my computer it was labeled "IMG_6633." Add the 3s together and what do you get… Scary.
[2] http://www.denverpost.com/2017/05/26/jim-bedwell-forest-service-boss-retire/
Did you see The SabbMattical Chronicles – Volume 9, The SabbMattical Chronicles – Volume 8, The SabbMattical Chronicles – Volume 7, The SabbMattical Chronicles – Volume 6, The SabbMattical Chronicles – Volume 5, The SabbMattical Chronicles – Volume 4, The SabbMattical Chronicles – Volume 3, The SabbMattical Chronicles – Volume 2, or  The SabbMattical Chronicles – Volume 1?